Close
SBDC advisor gets national recognition as 'Star Performer'
"Selfless" is one word supervisors use for Lisa Barr, senior business advisor for the University of Houston-Victoria Small Business Development Center. SBDCs around the nation help the economic development gears turn by counseling small businesses, and Barr recently was honored for her outstanding year.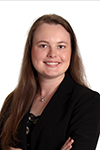 Lisa Barr
Barr found out last week she was the South-West Texas Border Small Business Development Center's "Star Performer," standing out among competition with peers from much larger markets. She will be one of about 60 people from the U.S. and its territories recognized as a Star Performer in September at the Association of Small Business Development Centers National Conference in San Diego. Texas is divided into four regions.
"This accomplishment says a lot," said Mary Peters, associate director of the South-West Texas Border SBDC. "She competed against many seasoned, high-performing advisors. But her performance last fiscal year was so strong that she was the clear winner."
Barr is part of a team that counsels small businesses in 11 Coastal Bend counties on matters including getting started, identifying opportunities, addressing problems, accessing capital and planning. Barr's standout year included 1,241 hours of consulting effort which resulted in:
282 total client jobs created and retained
34 client businesses started and expanded
More than $5.2 million in client capital formation and contract awards
"She is a brilliant, selfless young lady who is committed to what she does," Peters said. "Younger representatives can experience a challenge in earning the confidence of clients, but Lisa has a maturity beyond her years."
Barr is praised as a "servant leader" by her peers, Peters said. She teamed with two other business advisors from the region to develop a how-to plan to advise a growing niche market – medical professionals who own and operate their own business.
Barr has worked at the SBDC since 2007 and recently completed her Master of Science in Economic Development and Entrepreneurship from the UHV School of Business Administration. She said it is rewarding to assist clients and help them succeed in their business.
"I enjoy helping people and getting them going in the right direction," Barr said. "We work with clients on how they might market themselves differently or look into advertising to a different customer market and where to generate different revenue streams. It is rewarding when we make the right call for them and they are a success."
Barr said the SBDC staff does research into what is working for small businesses and how their local clients might benefit.
"We look at consumer trends, demographics, what kinds of customers are in our clients' service area and the feasibility of their business model and plans," she said. "Of course, every decision ultimately is the client's, but it feels good to suggest the right thing to them, especially with the challenges in the economy right now."
Thanks to Barr's award, the UHV SBDC office will receive a $1,000 as a scholarship to assist with costs for Barr to attend the ASBDC National Conference.
SBDC offices around the state are supported by state and federal funds. Texas is one of the most supportive states for small business, providing two-thirds of SBDC funding, Barr said. SBDC assistance returns tax revenues back to the state and federal governments and adds value to its clients via capital investments, jobs created and retained, and business growth
According to an independent study by James Chrisman, for every dollar invested in the South-West Texas Border SBDC, a return of $5.78 is generated.
For more information about the UHV SBDC, call 361-575-8944 or visit http://www.uhv.edu/small-business/.
The University of Houston-Victoria, located in the heart of the Coastal Bend region since 1973 in Victoria, Texas, offers courses leading to more than 80 academic programs in the schools of Arts & Sciences; Business Administration; and Education, Health Professions & Human Development. UHV provides face-to-face classes at its Victoria campus, as well as an instructional site in Katy, Texas, and online classes that students can take from anywhere. UHV supports the American Association of State Colleges and Universities Opportunities for All initiative to increase awareness about state colleges and universities and the important role they have in providing a high-quality and accessible education to an increasingly diverse student population, as well as contributing to regional and state economic development.