Close
UHV celebrates its legacy with visit from former president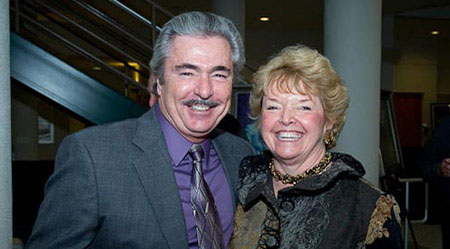 Former University of Houston-Victoria President Karen Haynes and her husband, Jim Mickelson, attend a "Celebrating the Legacy of UHV" event Tuesday night at the university
Karen Haynes, who served as president of the University of Houston-Victoria from 1997 to 2004, reminisced Tuesday night about her time at the university and what she has learned during 25 years in higher education leadership.
Haynes, UHV's longest-serving president, was in Victoria for two days as part of a "Celebrating the Legacy of UHV" event. She spoke during a reception with UHV faculty and staff on Monday, at a Texas Women in Higher Education South Texas Region luncheon on Tuesday and during the evening reception for community leaders.
"You, UHV's donors, supporters and friends, have played an important and necessary role in making this university the place of innovation, growth and knowledge that it is today," she told the approximately 45 community members in attendance.
Haynes, now in her seventh year as the president of California State University San Marcos, talked about coming to UHV in 1995 as the interim president after a 10-year tenure as dean of the UH Graduate School of Social Work. During her time at UHV, enrollment grew, the university purchased land and a building from Victoria College, the University Center was constructed, UHV began offering courses in Fort Bend County and online courses started.
She also talked about what she has learned during her career in higher education leadership and what the future may bring for UHV.
"At UHV, community support remains strong, employee commitment remains firm," she said. "There is a history of productive partnerships with the community for the public good and for students' success. These are, in fact, the most essential elements in the prediction of future success."
UHV Interim President Don Smith said Haynes was invited to take part in the "Celebrating the Legacy of UHV" event because of her involvement with the university's past. Her husband, Jim Mickelson, also attended.
"Dr. Haynes contributed enormously to the legacy UHV has received," Smith said after the event. "As the longest-serving president that UHV has had, it was important for us to invite her not only to help celebrate the start of a new era at UHV, but also the university's past and its future."
Also speaking at the community event was Victoria resident Dorothy Alcorn, a former regent on the UH System Board of Regents. She talked about a trip to Houston in the late 1980s with then-UHV President Glenn Goerke to meet with former Victoria resident Albert Alkek. They asked Alkek to contribute to the university's Margin of Excellence Campaign, and were thrilled when he gave $1 million.
"I believe that the students at UHV are very fortunate to be in a place that has a history of generosity," she said.
Ron Walker, president of the Victoria College Board of Trustees and former co-chair of the Commission on Expanding Access to Higher Education, also talked during the event about the Campaign Victoria initiative, which came about after a recommendation from the commission.
The commission, which has since disbanded, unanimously recommended in 2008 that UHV expand to a four-year university. To ensure the success of UHV's expansion, the commission also recommended that during the next five years, the community raise $250,000 a year in scholarship funds.
The Campaign Victoria initiative started from that recommendation, and now is in its second year. The funds raised help recruit freshmen and sophomores from outside the region to UHV.
"It is necessary for this institution to be able to offer scholarships to grow," Walker said as he urged those in attendance to contribute.
The purpose of the "Celebrating the Legacy of UHV" event was to show appreciation to those whose contributions have enabled UHV to grow; to remind those attending that UHV is building a legacy for the future; and to commemorate the university's achievements, generate goodwill and invite continued support.
The University of Houston-Victoria, located in the heart of the Coastal Bend region since 1973 in Victoria, Texas, offers courses leading to more than 80 academic programs in the schools of Arts & Sciences; Business Administration; and Education, Health Professions & Human Development. UHV provides face-to-face classes at its Victoria campus, as well as an instructional site in Katy, Texas, and online classes that students can take from anywhere. UHV supports the American Association of State Colleges and Universities Opportunities for All initiative to increase awareness about state colleges and universities and the important role they have in providing a high-quality and accessible education to an increasingly diverse student population, as well as contributing to regional and state economic development.