Close
Students spur substitute teacher toward UHV education degree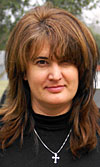 Melissa Blaschke
Ten years ago, if you had told University of Houston-Victoria sophomore Melissa Blaschke she would become a teacher, she would have thought you were crazy.
"My mom was a teacher, and I always saw everything she went through," 41-year-old Blaschke said. "I said, 'No way I'm doing that.'"
But her story changed in recent years after she took up substitute teaching.
"I loved it, and I didn't expect to," said Blaschke, who first studied to become a medical lab technician. "The kids I'm subbing with told me, 'Miss Blaschke, you ought to be a teacher.' That is really what struck me."
The mother of three is now on her path toward a degree in elementary education. She drives an hour each week from her home in Shiner for classes at UHV and said that while it means time on the road, it could be worse. Her mother lived 1 ½ hours from UHV when she obtained her degree.
"I have it better than she did," she said.
Blaschke hopes to be the sort of teacher who inspires her students. Some children learn differently than others, and she wants to be flexible enough to cater to everyone.
"I think that as long as we all come to the same answer, it's OK if you get there a slightly different way than the person next to you," she said.
Even so, she knows it won't be easy.
"I'm going into this with eyes wide open, knowing full well it won't just give me summers off to be with my kids," she said. "It takes a lot of work."
Blaschke looks forward to getting into a classroom of her own. Substitute teaching is fun, she said, but doesn't allow leeway to take control of the lesson plans.
"Being able to hone in on my creativity and passions for teaching is exciting," she said. "It's important to me now. It's a goal."
It helps that she has support from family and friends, Blaschke said, explaining even the teachers at the school where she substitutes are there to help.
"They ask me when I will graduate, and they're ready for me to become one of them," she said. "It's kind of like I'm part of the pack already."
She advised UHV students to enjoy learning and to avoid overextending themselves.
"Yes, you have a goal you're trying to reach by getting that degree," she said. "But balance your life so you're not so encompassed that you're missing out on your day-to-day living, too."
The UHV Outstanding Student is an online feature highlighting the exceptional students who attend the University of Houston-Victoria. To nominate a student, contact UHV Communications Manager Paula Cobler or call 361-570-4350.
The University of Houston-Victoria, located in the heart of the Coastal Bend region since 1973 in Victoria, Texas, offers courses leading to more than 80 academic programs in the schools of Arts & Sciences; Business Administration; and Education, Health Professions & Human Development. UHV provides face-to-face classes at its Victoria campus, as well as an instructional site in Katy, Texas, and online classes that students can take from anywhere. UHV supports the American Association of State Colleges and Universities Opportunities for All initiative to increase awareness about state colleges and universities and the important role they have in providing a high-quality and accessible education to an increasingly diverse student population, as well as contributing to regional and state economic development.