Close
Reading series speaker a master of fiction, creative nonfiction
A writer whose career has taken her through fiction, journalism, essays and creative nonfiction will be the next speaker in the University of Houston-Victoria/American Book Review Spring Reading Series.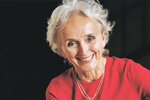 Beverly Lowry
Beverly Lowry, author and former president of the Texas Institute of Letters, will talk about her work and career at noon March 10 in the Alcorn Auditorium of UHV University West, 3007 W. Ben Wilson St. The public is invited to the free event, and light refreshments will be served.
Lowry's writing career has paralleled her nomadic life. She was raised in Mississippi and has lived in New York, Houston, San Marcos, Los Angeles, Montana, Washington, Buffalo and Austin, where she currently hangs her hat. But it was her background that drew her to writing about the underdogs and heroes of American society, even casting a light on the human side of those who have done atrocious things.
"I grew up in the Delta, and the Delta thought of itself as the literary heart of Mississippi," Lowry said. "We were encouraged, I should say we white people were encouraged, to become writers and honor the literature that had been written before. I took a part of that place with me, as we all take something from wherever is our first place."
Part of what Lowry took was empathy for the black southerner. Three of her fiction novels are set in Eunola, Miss., a fictional place similar to her hometown of Greenville. "Come Back, Lolly Ray" and "Emma Blue" were her first two books, and she returned to that setting with "The Track of Real Desires." In these books, her characters showed how they were affected by their setting of small-town Mississippi, from innocents to aristocrats.
Not confined to fiction, she also wrote award-winning nonfiction and pieced together the life of the heroic Harriet Tubman, from her childhood as a slave to her Underground Railroad years. Lowry took on the famed subject with journalistic intensity.
"It seemed a natural step for me, writing about African-Americans, because in Greenville, I was a minority in a town that was 60 percent black," she said. "I was always aware of the black experience, and I always wanted to understand it and understand what it was that caused a society, a culture to be so implacably divided."
Lowry has received awards from the National Endowment of the Arts, Guggenheim Foundation, Black Warrior Review, Texas Institute of Letters and Mississippi Institute of Arts and Letters. She said she was honored with accolades about her book and few chided her as a white woman writing about a black heroine.
"Harriet Tubman was such an icon that she transcends racial boundaries. She is a true American hero," Lowry said.
Less of a hero, but no less intriguing, is Karla Faye Tucker featured in Lowry's book "Crossed Over: A Murder, A Memoir." Tucker was the first woman in Texas executed in more than a century for her part in the 1983 pickaxe deaths of two people near Houston. Lowry said the book was therapeutic for her as she dealt with the hit-and-run death of her own 18-year-old son. The book is a creative nonfiction gem, exploring the case more than any journalist, recreating that grisly night, and covering Tucker's remorse, her conversion to Christianity and, finally, her death by lethal injection.
Lowry is returning to another grisly scene with her next book about the still-unsolved yogurt-shop murders in Austin.
When she began publishing, Lowry was part of the stellar cast in the University of Houston writing program, which included Donald Barthelme. Now an Austin resident, she is the director of the Creative Nonfiction Program at George Mason University in Washington, D.C.
"There is quite an impressive English faculty at UHV," Lowry said, citing colleagues Dagoberto Gilb, Tom Williams and Kim Herzinger.
Williams, an ABR associate editor and chair of the Humanities Division in the School of Arts & Sciences, said audiences stand to learn much from this inventive writer.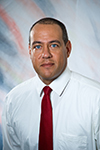 Tom Williams
"Though the city of her birth is Memphis, in many ways Texas is a literary home for Beverly Lowry, so we all should welcome her back," Williams said. "All she's done is written some majestic fiction and pretty much invented and re-invented creative nonfiction."
The final writer for the Spring Reading Series will be Rolando Hinojosa-Smith, who brings his specialty in life and literature of the Southwest to Victoria on April 21. Hinojosa-Smith was the first Chicano author to receive the prestigious Premio Casa de las Americas award. He has devoted most of his career as a writer to his 15-volume "Klail City Death Trip" series.
Authors who are part of the Reading Series attend roundtable discussions with UHV faculty and students, make classroom visits to area schools, give lectures open to the community, and go to receptions hosted by Friends of ABR patrons while they are in Victoria.
ABR is a nonprofit, internationally distributed literary journal that is published six times a year. It began in 1977, moved to UHV in 2007 and has a circulation of about 8,000. The journal specializes in reviews of works published by small presses.
For more information about the reading series, call ABR Managing Editor Charles Alcorn at 361-570-4100 or go to www.americanbookreview.org.
The University of Houston-Victoria, located in the heart of the Coastal Bend region since 1973 in Victoria, Texas, offers courses leading to more than 80 academic programs in the schools of Arts & Sciences; Business Administration; and Education, Health Professions & Human Development. UHV provides face-to-face classes at its Victoria campus, as well as an instructional site in Katy, Texas, and online classes that students can take from anywhere. UHV supports the American Association of State Colleges and Universities Opportunities for All initiative to increase awareness about state colleges and universities and the important role they have in providing a high-quality and accessible education to an increasingly diverse student population, as well as contributing to regional and state economic development.