Close
National Institutes of Health nutrition science expert to speak in Victoria
Editor's note: This talk has been canceled due and will be rescheduled at a later date.
The third in a series of University of Houston-Victoria talks about cancer prevention will showcase how diet and supplements may protect humans from cancer and related diseases.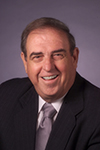 John Milner
John Milner is chief of the Nutritional Science Division of Cancer Prevention at the National Cancer Institute, part of the National Institutes of Health in Bethesda, Md. Milner will address a general audience and will talk about "Opportunities and Challenges Associated with Diet and Cancer Prevention" from 5 to 5:45 p.m. March 10 in Room 303 of the UHV University Center, 3007 N. Ben Wilson St. He will hold a more in-depth science talk for graduate students at 7 p.m., though the public also is welcome to attend.
Milner asserts that about 30 percent of cancers relate to dietary habits. These cancers could be eliminated if doctors could design the ideal diet, but there is likely not just one diet that will work for all individuals.
"We're really focusing on personalized nutrition," Milner said. "There is a wealth of evidence that one's diet is an important determinant in the risk of cancer. We know that a reduced-caloric diet, higher in fruits and vegetables, is linked to reduced cancer at several sites."
But it is naive to believe that all fruits and vegetables are equal, he said. Milner and his NCI colleagues are focusing on "nutrigenomics," the study of how the specific foods people eat interact with genes.
"Supplements are taken by about 60 percent of Americans, but we really don't know if those isolated compounds are inhibiting cancer, and some taken in large amounts may actually promote cancer," Milner said. "We are promoting studies to compare foods which provide multiple components with isolated compounds found in many supplements."
Milner and his team also have supported study of everything from garlic, to soybeans, to broccoli and more.
Milner added that there is much public interest in nutrition, and further understanding of the interactions between foods and genetics should lead to more effective prevention strategies.
The March 10 talk also will be broadcast to the public in the Houston area via Interactive Television. Area residents can view the talk in Room 309 of the George Building at the University of Houston System at Sugar Land, 14000 University Blvd., and in Room 144 of the UH System at Cinco Ranch, 4242 South Mason Road in Katy.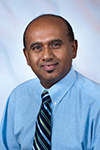 Richard Gunasekera
"It is an honor to have a person of Dr. Milner's stature come to Victoria to talk about these very relevant societal issues," said Richard Gunasekera, UHV professor and director of graduate biology studies. "Changes in health behavior through public and professional education are our cancer prevention program's goal, and getting experts from the medical field to speak with students is a wonderful first step."
The next talk in the series will be March 31 when Gopala Kovvali, executive editor of the "Journal of Carcinogenesis," will speak about biology targeted to cure chronic myeloid leukemia. Kovvali is the president of the Carcinogenesis Foundation and an adjunct faculty member at Rutgers University in New Jersey.
"Dr. Milner's visit presents a rare opportunity for the public and students to hear from leading experts in the cancer field," Gunasekera said. "These speaker events serve the university and our students, but they also serve all people dealing with this terrible disease to try to prevent and alleviate suffering."
Gunasekera's own research focus is on nutrition study at the genetic and cellular levels, including nutrigenomics and safe uses of preventative food and exotic products in cancer prevention.
For more information about the series, contact Gunasekera at 281-275-8826 or gunasekerar@uhv.edu.
The University of Houston-Victoria, located in the heart of the Coastal Bend region since 1973 in Victoria, Texas, offers courses leading to more than 80 academic programs in the schools of Arts & Sciences; Business Administration; and Education, Health Professions & Human Development. UHV provides face-to-face classes at its Victoria campus, as well as an instructional site in Katy, Texas, and online classes that students can take from anywhere. UHV supports the American Association of State Colleges and Universities Opportunities for All initiative to increase awareness about state colleges and universities and the important role they have in providing a high-quality and accessible education to an increasingly diverse student population, as well as contributing to regional and state economic development.