Close
UHV pair's history book wins Carpenter Prize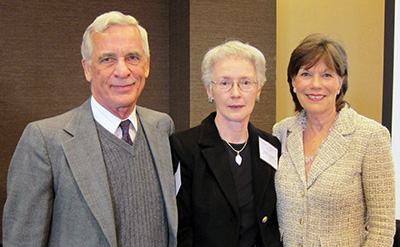 Ellen Temple, right, founder of the Carpenter Award, makes a presentation to Hal Smith and Judith McArthur at the Texas State Historical Association's annual conference in El Paso.
A Texas women's history book by two local historians recently was selected by the Texas State Historical Association as the winner of the $1,000 Carpenter Award.
Judith McArthur, a University of Houston-Victoria adjunct faculty member, and Harold Smith, a UHV history professor, co-authored "Texas Through Women's Eyes: The Twentieth-Century Experience." They were presented with the award at the association's annual conference March 3 in El Paso for the best book about Texas women's history in 2010.
"I'm speechless with delight," McArthur said. "I never dreamed we would win the award a second time with all the wonderful books on Texas women's history that are being published."
Their 2003 book, "Minnie Fisher Cunningham: A Suffragist's Life in Politics," also won the Carpenter Award.
"The award is a dream come true," Smith said. "We are very excited, not only for ourselves, but for the university. UHV may be one of the smaller universities in Texas, but the award demonstrates that its faculty can compete successfully with faculty at much larger institutions."
The book, released in September, is a unique take on women's history in Texas, highlighting lesser-known names, first-person accounts and more minority voices than have been cited in the past publications. It chronicles women's activism throughout the 20th century, bringing the right to vote and better job opportunities, among other changes.
"Texas Through Women's Eyes" has received a number of favorable reviews, including one in the Dallas Morning News, which called it "invaluable" even for someone who is widely read in Texas women's history. The San Angelo Standard Times wrote that the book is a "thorough, important and compelling addition to the literature dealing with modern Texas history." Another reviewer for Story Circle Book Reviews, the largest online women's book review site, praised its scholarship, and the reviewer said she was so enchanted by the volume that she wanted to "hit the road for Victoria" and enroll in one of the history classes taught by the authors.
The book also is a finalist for the Texas Institute of Letters' "Most Significant Scholarly Book" published in 2010.
Suzanne LaBrecque, UHV provost and vice president for academic affairs, praised the professors for their diligent scholarship that contributed to this important addition to people's knowledge of Texas women's history.
"This award is wonderful recognition for two talented historians," LaBrecque said. "This book and the award underscore the academic excellence at UHV."
Sunny Nash, a leading author on race relations in the U.S., said she has found the book relevant to discussions in more areas than Texas women's history.
"I believe previous attempts to recognize the 20th-century contributions of Texas women laid the groundwork of curiosity," Nash said. "But it was the actual research by Judith McArthur and Harold Smith that produced 'Texas Through Women's Eyes,' giving us a captivating and sometimes ultra-private glimpse into the lives of these women, and helps us to understand them and ourselves in a deeper way."
The Liz Carpenter Award was established in 1992 to encourage publication of scholarly research about the history of women in the Lone Star State. The award honors Liz Carpenter, a fifth-generation Texan and former press secretary for Lady Bird Johnson, for her commitment to the history of women in Texas and her personal achievements.
Selection of the award winner is made by a Texas State Historical Association committee composed of scholars who are experts on Texas women's history.
University of Texas Press has reprinted "Texas Through Women's Eyes" after selling out of the first printing less than six months after its publication.
The University of Houston-Victoria, located in the heart of the Coastal Bend region since 1973 in Victoria, Texas, offers courses leading to more than 80 academic programs in the schools of Arts & Sciences; Business Administration; and Education, Health Professions & Human Development. UHV provides face-to-face classes at its Victoria campus, as well as an instructional site in Katy, Texas, and online classes that students can take from anywhere. UHV supports the American Association of State Colleges and Universities Opportunities for All initiative to increase awareness about state colleges and universities and the important role they have in providing a high-quality and accessible education to an increasingly diverse student population, as well as contributing to regional and state economic development.