Close
UHV to offer new adult and higher education master's
University of Houston-Victoria will offer an all-online Master of Education in Adult and Higher Education starting in the fall.
The school's new offering is targeted toward educators who want to teach or work with adults, or in higher education institutions, but need online offerings so they can work at their own pace at times that are convenient for them.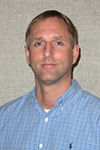 Thomas Cox
"Actively engaging adult learners requires a unique set of skills and a broad understanding of adult development," said Thomas Cox, program director and assistant professor of education at UHV. "It requires a different skill set to deal with adults, parents, and even faculty and staff. Whether one teaches community college or provides training for adults in a school district or corporate setting, this program has the versatility to meet those professional goals."
The online master's offering recently was approved by the Texas Higher Education Coordinating Board and will be available to UHV students at the school in the fall. Several students are already taking core courses included in the program.
"It helps me do my job better because the topics and courses are related to what I do," said UHV Registrar Trudy Wortham, who is taking the courses for personal enrichment. "I wanted to get a master's in adult and higher education after I received my bachelor's degree, but I wasn't in the position to pick up and go to another school. I'm glad the university has developed this program. Any time someone can train for better educational skills, it's a positive thing."
Cox said students' experiences, career goals and needs for development should be carefully considered when they select one of three concentration areas – adult education, higher education or instruction – within the master's degree.
"This new AHED program expands the boundaries of educational opportunity for people in the region," Cox said. "As we know, most education for adults occurs outside of the classroom."
The master's degree in adult and higher education will help an educator qualify for positions such as athletic director, continuing education specialist, coordinator, curriculum specialist, department chairman, higher education consultant, program director, adult basic educator, community educator, cooperative extension educator, corporate trainer, health educator, human resources director, religious educator and more.
The online program requires 36 total semester credit hours with 15 core course hours, three hours of research and a combination of 18 hours in adult or higher education. The instruction concentration requires 39 semester credit hours.
The program offers online courses such as "The Adult Learner," "Self-Directed Learning," "Adult Development," "IT Trends and Issues in Adult Higher Education," "Higher Education Finance," "Educational Leadership in Organizations," "The Community College," "The College Student" and "Introduction to Student Affairs."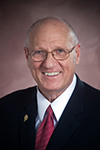 Lawrence Rossow
Lawrence Rossow, dean of the UHV School of Education & Human Development, said the changing nature of higher education and the influx of adult learners have sparked the need for skills, insights and knowledge in the field of adult and higher education.
"Educational strategies for this group of adult learners are different than that of traditional college students," he said. "UHV is responding to that need by offering a new and exciting master's program that prepares students to work in formal and informal education environments outside of the kindergarten through grade-12 structure."
For more information, visit the School of Education & Human Development website at www.uhv.edu/education/, or contact Thomas Cox at 361-570-4214 or coxt@uhv.edu.
The University of Houston-Victoria, located in the heart of the Coastal Bend region since 1973 in Victoria, Texas, offers courses leading to more than 80 academic programs in the schools of Arts & Sciences; Business Administration; and Education, Health Professions & Human Development. UHV provides face-to-face classes at its Victoria campus, as well as an instructional site in Katy, Texas, and online classes that students can take from anywhere. UHV supports the American Association of State Colleges and Universities Opportunities for All initiative to increase awareness about state colleges and universities and the important role they have in providing a high-quality and accessible education to an increasingly diverse student population, as well as contributing to regional and state economic development.