Close
Dual-language UHV student gets involved in good works, studies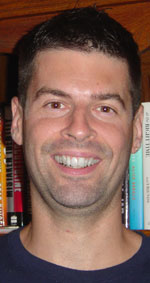 Alex Vettraino
Whether it's a blood drive, charity walk or shelter donation event, University of Houston-Victoria senior Alex Vettraino is likely to be helping out, along with a few of his friends.
Vettraino is vice president of the UHV chapter of Gamma Beta Phi, an honor and service organization.
The Richmond resident first got involved in the group three years ago after learning that he met the qualifications.
"It sounded interesting, and I wanted to see what it was about," he said. "The whole organization is founded on service, character and scholarship."
The group seemed to be a good fit, and he got involved, assisting where he could. One of the benefits was knowing he was helping others.
"It felt good," he said. "I've really enjoyed it."
Vettraino, 31, was born in France but moved to the United States at age 1, when his father was transferred for work. The family first located in Virginia but moved to the Lone Star State in 2002.
Although his family speaks French at home, Vettraino feels more American than anything else.
"I guess you could say I'm domesticated," he said, explaining he hasn't been back overseas since he was about 8. "I grew up here. Nothing makes me any different, really."
Vetrraino, who is pursuing a double major in criminal justice and business management with a minor in psychology, admits much of his time is spent in classes or studying. When he isn't busy with school or Gamma Beta Phi, he enjoys reading, watching movies, tennis and hockey. The former athlete said he likes to stay active whenever possible.
Looking forward, he plans to complete his criminal justice degree this semester and remain at UHV to finish his business management coursework. An education is important, especially in a recovering economy, he said.
"With both degrees, I feel like I'll be more marketable as a potential employee," Vettraino said. "And by then, I'm hoping the job market will be better."
Although he has not settled on a chosen career, he is considering an administrative job in the security field.
"I'm looking forward to getting out there and finding a career I really enjoy," he said. "I think it's exciting."
The UHV Outstanding Student is an online feature highlighting the exceptional students who attend the University of Houston-Victoria. To nominate a student, contact UHV Communications Manager Paula Cobler or call 361-570-4350.
The University of Houston-Victoria, located in the heart of the Coastal Bend region since 1973 in Victoria, Texas, offers courses leading to more than 80 academic programs in the schools of Arts & Sciences; Business Administration; and Education, Health Professions & Human Development. UHV provides face-to-face classes at its Victoria campus, as well as an instructional site in Katy, Texas, and online classes that students can take from anywhere. UHV supports the American Association of State Colleges and Universities Opportunities for All initiative to increase awareness about state colleges and universities and the important role they have in providing a high-quality and accessible education to an increasingly diverse student population, as well as contributing to regional and state economic development.