Close
UHV associate professor testifies to Texas House committee about small business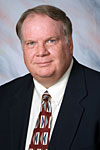 David Summers
A University of Houston-Victoria faculty member lent his voice to a Texas House of Representatives committee during a March 10 session about small business and economic development.
David Summers, an associate professor of economic development and entrepreneurship in the UHV School of Business Administration, testified about the role of entrepreneurs and small businesses in the overall economy. He also gave information about the university's Master of Science in economic development and entrepreneurship, in which he teaches courses.
"My testimony focused on the role of small business, and I gave the committee statistics to show them the reality of how important small business is," said Summers, who was the only academic invited to testify. "It was mostly a fact-finding mission for the committee."
Summers told the committee that there are three pillars for economic growth and development that help provide a better quality of life for communities: entrepreneurship, business growth and attraction of new business. He said that while small and large communities focus on business growth, small communities rely more heavily on entrepreneurship, and larger towns focus more on attracting new businesses.
He added that many economic development organizations, including the UHV Small Business Development Center, have begun to switch their focus from trying to land new companies to helping existing businesses grow.
"Of course, Caterpillar recently agreed to locate a plant here, and that is great for economic development," he said. "But much of the job growth that happens occurs when small businesses grow."
Summers said it is a challenge to refocus efforts on growth since 75 percent of small businesses never make a hire. They are strictly owner-operated companies.
"Of the remaining 25 percent, significant job production only occurs in about a fifth of those," he said. "So where we need to concentrate our efforts is on that 4 percent to 5 percent of small businesses that are job creators."
With a national failure rate in excess of 50 percent in some areas for small business startups, it is important for economic development organizations to refocus on how to encourage small business expansion and retention of existing jobs, Summers said.
Others testifying before the House committee were a representative from the El Paso Hispanic Chamber of Commerce, a Corpus Christi economic development board member, an officer for the Port of Houston Authority and two representatives from the Institute for Economic Development based at the University of Texas-San Antonio.

Joe Harper
UHV SBDC Director Joe Harper said working with Summers has brought verifiable research to the center's efforts to help existing businesses.
"While we certainly do not ignore startups, our focus has switched more to helping existing businesses," Harper said. "This has created a more efficient way for us to address small business needs, and it has raised the standards of our consulting staff."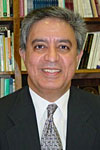 Farhang Niroomand
Summers points to business infusion growth increasing from $8 million to $13 million during the past year in the 11-county region that includes Victoria, and SBDC senior business adviser Lisa Barr's recent national recognition as a Star Performer for her role in assisting small businesses in the Coastal Bend area.
Farhang Niroomand, dean of the UHV School of Business Administration, said Summers' invitation to testify was well deserved.
"Dr. Summers is an important part of our economic development and entrepreneurship program, and we are proud that he could contribute to a statewide dialogue on those subjects," Niroomand said. "It's gratifying to see Texas legislators recognize his expertise in this arena."
The University of Houston-Victoria, located in the heart of the Coastal Bend region since 1973 in Victoria, Texas, offers courses leading to more than 80 academic programs in the schools of Arts & Sciences; Business Administration; and Education, Health Professions & Human Development. UHV provides face-to-face classes at its Victoria campus, as well as an instructional site in Katy, Texas, and online classes that students can take from anywhere. UHV supports the American Association of State Colleges and Universities Opportunities for All initiative to increase awareness about state colleges and universities and the important role they have in providing a high-quality and accessible education to an increasingly diverse student population, as well as contributing to regional and state economic development.