Close
Carcinogenesis expert to speak in Victoria about chronic myeloid leukemia
The third in a series of University of Houston-Victoria talks about cancer causes and prevention will feature the executive editor of the Journal of Carcinogenesis discussing good news, recent advances and a potential cure for chronic myeloid leukemia.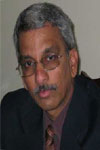 Gopala Ko

vv

ali
Gopala Kovvali, president of the Carcinogenesis Foundation and an adjunct faculty member in the Department of Genetics at Rutgers University in New Jersey, will give a talk titled "Bright Prognosis for a Bleak Disease: The Power of Modern Research" from 7 to 8 p.m. March 31 in Room 303 of the UHV University Center, 3007 N. Ben Wilson St. The next hour will have more in-depth scientific information for graduate students during which Kovvali will present "Biology to Targeted Therapy for Cure of Chronic Myeloid Leukemia."
The event also will be broadcast to the public via Interactive Television to Room 309 of the George Building at the University of Houston System at Sugar Land, 14000 University Blvd., and to Room 144 of the UH System at Cinco Ranch, 4242 S. Mason Road in Katy.
"I will discuss how a hopeless disease became not only manageable, but curable in 90 percent of the cases," Kovvali said. "It is a fantastic development in the past decade – a gift to mankind in the first decade of the new century."
The subject of carcinogenesis, or the creation of cancer cells, has been Kovvali's passion since his days as a graduate student. He received a doctorate in biophysical chemistry, which combines technologies and knowledge of chemistry and biology to understand processes in cells. Part of his thesis was studying how small molecules, including carcinogens, bind to DNA.
"What we in the medical and scientific communities needed to do was understand the genesis so we can more intelligently identify ways of curing the cancer disease rather than simply managing it through chemotherapy," he said.
Kovvali worked for two years in India after obtaining his doctorate, and moved to Galveston to continue his work as a postdoctoral fellow at the University of Texas Medical Branch. His career then took him to the Robert Wood Johnson Medical School in New Jersey.
The doctor also is executive editor of the Journal of Carcinogenesis, a peer-reviewed publication in the field of carcinogenesis and carcinoprevention, which he founded five years ago. The journal focuses on articles exploring studies related to the suppression of cancer cell growth.
In addition, Kovvali is the founder and president of the Carcinogenesis Foundation, which advocates for cancer research, prevention, innovation, medicines and education. The foundation organizes international conferences as a part of its mission. Kovvali hopes that communities near the Houston area will partner with the foundation's team in disseminating the findings from scientific research to the public and spreading a message of hope that cancer is preventable and curable.
"I believe that participation and support of communities for biomedical research is the key to success in the efforts to eradicate cancer," he said. "A major part of our foundation's efforts is to encourage the communities to appreciate the outcomes of biomedical research."
Richard Gunasekera, a UHV professor and director of graduate biology studies, said the talks offer a chance for the public to sit in on discussions about illnesses that have affected almost every family.
"Dr. Kovvali presents a rare opportunity for the public and students to hear from a leading expert in the cancer studies field," Gunasekera said. "It is our hope that one day, the public will continue to become educated on prevention, and cancer will eventually be canceled."
Gunasekera's own research focus is on nutrition study at the genetic and cellular levels, and safe uses of preventative food and exotic products in cancer prevention. He recently was asked to serve as senior editor of the Journal of Carcinogenesis.
The final talk in UHV cancer speaker series will feature John Milner, nutrition division chief at the National Institutes of Health Cancer Prevention Center. His talk, titled "Opportunities and Challenges Associated with Diet and Cancer Prevention," was postponed earlier this month but is being rescheduled for a later date.
For more information about the series, contact Gunasekera at 281-275-8826 or gunasakerar@uhv.edu.
The University of Houston-Victoria, located in the heart of the Coastal Bend region since 1973 in Victoria, Texas, offers courses leading to more than 80 academic programs in the schools of Arts & Sciences; Business Administration; and Education, Health Professions & Human Development. UHV provides face-to-face classes at its Victoria campus, as well as an instructional site in Katy, Texas, and online classes that students can take from anywhere. UHV supports the American Association of State Colleges and Universities Opportunities for All initiative to increase awareness about state colleges and universities and the important role they have in providing a high-quality and accessible education to an increasingly diverse student population, as well as contributing to regional and state economic development.