Close
UHV freshman math major runs the numbers naturally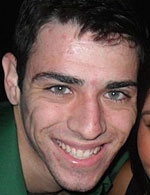 Shane Scallan
Whether fractions, statistics, equations or otherwise, Shane Scallan has it covered. The University of Houston-Victoria freshman has a handle on math and does what he can to help others.
The 19-year-old, who has always been a "numbers guy," helps friends with their course work.
"It's just always come easier to me than anything else," the math major said of the subject. "Usually I can help them. Sometimes I can't, but I help as best I can." It isn't just the college crowd Scallan donates his time to help. He also caters to younger students. Scallan works as a tutor for the YMCA, helping elementary-age students with homework after school.
"It's so much fun," he said. "I don't even feel like I'm working half the time because it comes so easily. I really like what I do."
Outside of classes and work, Scallan continues to keep busy.
He and his friends make their own fun, playing sports and dancing, and although he hasn't played much since high school, Scallan also enjoys playing trumpet. In addition, he keeps active on the UHV Student Senate freshman committee, where he has enjoyed the friends and connections he's made.
"I've come in contact with a lot of people who can help later in life," he said. "I think it will be good."
Scallan, the oldest of three children, is originally from Harlingen but moved to Victoria for school. Although he has enjoyed school and living on his own thus far, he admitted college is an adjustment.
He advised students to follow the course syllabi word for word in order to stay ahead of the curve.
"It really helps when it comes to staying on top of things for classes, due dates, things like that," he said. "My first semester, I just looked at it for the first couple of weeks. That was a mistake."
After graduation, Scallan plans to work as an engineer in the U.S. Navy. His grandfather served in the Navy, and he said it would be nice to follow his footsteps.
"Plus, there are benefits all around with the military," he said. "It makes sense."
The UHV Outstanding Student is an online feature highlighting the exceptional students who attend the University of Houston-Victoria. To nominate a student, contact UHV Communications Manager Paula Cobler or call 361-570-4350.
The University of Houston-Victoria, located in the heart of the Coastal Bend region since 1973 in Victoria, Texas, offers courses leading to more than 80 academic programs in the schools of Arts & Sciences; Business Administration; and Education, Health Professions & Human Development. UHV provides face-to-face classes at its Victoria campus, as well as an instructional site in Katy, Texas, and online classes that students can take from anywhere. UHV supports the American Association of State Colleges and Universities Opportunities for All initiative to increase awareness about state colleges and universities and the important role they have in providing a high-quality and accessible education to an increasingly diverse student population, as well as contributing to regional and state economic development.