Close
Community of Readers speaker to discuss importance of emergency preparedness
The Victoria area typically experiences a major hurricane every 25 to 35 years, but it's been 50 years since one has hit, and community residents need to be prepared.
Jeb Lacey, with the Victoria Office of Emergency Management, will talk about the fundamental concepts of hurricanes, the history of the area's storms, the probabilities of a hurricane hitting and emergency preparedness from noon to 1 p.m. April 12 in the University of Houston-Victoria Multi-Purpose Room, 3007 N. Ben Wilson St.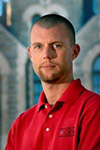 Jeb Lacey
The free talk is open to the public and is one of the UHV Community of Readers forums being offered during the 2010-2011 school year.
"What I hope to do is educate people," Lacey said. "We really need citizens to recognize that it is their responsibility to be ready at all times for an emergency. The primary focus of government agencies after a major hurricane is going to be the restoration of critical infrastructure."
Area residents should have enough food, water and other supplies to last for three days, he said. Emergency supply kits should contain items such as a gallon of water for each person each day, nonperishable food, a battery-powered or hand-crank radio, batteries, flashlights, first aid kit and other items.
The last major hurricane to hit the Crossroads area was Hurricane Carla in 1961. It was a Category 4 storm.
"We have had numerous close calls since then," Lacey said. "We definitely haven't had the attention in this region from tropical systems that our neighbors to the north and south have had lately, but we need to keep it on our radar."
Lacey's presentation is the fourth in the series of Community of Readers forums. The Community of Readers was designed to promote a shared experience between first-year UHV students and the larger community by offering a common reading with cross-disciplinary perspectives, local relevance and compelling storytelling.
"The Community of Readers is a way for people to connect with each other," said Casey Akins, an assessment coordinator for the School of Arts & Sciences and a member of the Community of Readers committee. "When you have a shared book, it can really bring people together."
UHV's new freshmen were each given copies of "Isaac's Storm" by Erik Larson at the beginning of the school year, and the university's faculty and staff members also were encouraged to read the book. "Isaac's Storm" is about the Sept. 8, 1900, hurricane that struck Galveston, killing 6,000 of the city's 37,000 residents and destroying 3,600 buildings.
The first Community of Readers program in October featured representatives from the Galveston County Historical Museum. In February, former newspaper columnists Henry and Linda Wolff discussed the major storms that have affected the area. Ray Kirkwood, Mid-Coast Master Naturalist, spoke in March about a hurricane's effects on biology and wildlife.
"We have been really pleased during the program's inaugural year that a balance of community members and students are attending the events," said Akins, who added that between 60 and 100 people typically come to each forum.
For more information about the Community of Readers, go to www.uhv.edu/community-of-readers or email readers@uhv.edu. The committee is chaired by Elizabeth "Libby" Rhoades, and other committee members include UHV faculty and staff Charles Alcorn, Dmitri Sobolev, Alireza Tavakkoli, Andrea Vieux, Uppinder Mehan and Esperanza Camargo.
The University of Houston-Victoria, located in the heart of the Coastal Bend region since 1973 in Victoria, Texas, offers courses leading to more than 80 academic programs in the schools of Arts & Sciences; Business Administration; and Education, Health Professions & Human Development. UHV provides face-to-face classes at its Victoria campus, as well as an instructional site in Katy, Texas, and online classes that students can take from anywhere. UHV supports the American Association of State Colleges and Universities Opportunities for All initiative to increase awareness about state colleges and universities and the important role they have in providing a high-quality and accessible education to an increasingly diverse student population, as well as contributing to regional and state economic development.