Close
Former UHV president attends 'Legacy' event, says to keep students first
Former University of Houston-Victoria President Glenn Goerke urged community members, faculty and staff to focus on students in all decisions related to the university during a "Celebrating the Legacy of UHV" event Wednesday evening.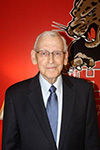 Glenn Goerke
"They are this campus. The faculty and administration are here to help them become … what they can be. If we all remember that, UHV will grow," he told about 40 people attending the event on the third floor of the UHV University Center.
The reception was the second of the university's "Celebrating the Legacy of UHV" events designed to show appreciation to those whose contributions have enabled UHV to grow and develop, and remind those attending that UHV is building a legacy for the future. The events also commemorated the university's achievements, generated goodwill and invited continued support, UHV Interim President Don Smith said.
Karen Haynes, UHV's longest-serving president, came to Victoria in February as part of the events. She currently serves as president of California State University San Marcos.
Smith told the crowd that Goerke was responsible for helping to secure the university's first and only $1 million gift in the late 1980s. He was UHV's president from 1986 to 1991.
"To say that his leadership inspired confidence is simply to state the obvious," Smith said.
Smith also read a letter addressed to Goerke from Renu Khator, president of the University of Houston and chancellor of the UH System.
"Your presidency at UH-Victoria, just a handful of years after its official establishment, strengthened the young institution, providing the foundation for its spectacular growth throughout its short history in terms of enrollment, academic excellence and community service," Khator wrote.
Goerke said he had many fond memories of UHV and Victoria. He stayed at what is now Jaguar Hall, a former Holiday Inn that is now UHV's residence hall for underclassmen, when he interviewed for the UHV presidency.
"Don't ever lose track of how strong this community is and how great it is," he said.
Goerke was UHV's president until the UHS Board of Regents approved him for an appointment as president of UH-Clear Lake, where he served for four years. He also served as interim chancellor for the UH System for several months in 1989.
In June 1995, he was appointed as president of UH. In 1997, the Board of Regents passed a resolution giving Goerke the title of president emeritus at UH, UH-Clear Lake and UHV. During the same year, he also received an honorary doctorate of letters at commencement.
The University of Houston-Victoria, located in the heart of the Coastal Bend region since 1973 in Victoria, Texas, offers courses leading to more than 80 academic programs in the schools of Arts & Sciences; Business Administration; and Education, Health Professions & Human Development. UHV provides face-to-face classes at its Victoria campus, as well as an instructional site in Katy, Texas, and online classes that students can take from anywhere. UHV supports the American Association of State Colleges and Universities Opportunities for All initiative to increase awareness about state colleges and universities and the important role they have in providing a high-quality and accessible education to an increasingly diverse student population, as well as contributing to regional and state economic development.