Close
UHV SBDC helps small business owners with planning, vision and follow-up
For Coastal Bend clients of the University of Houston-Victoria Small Business Development Center, the expertise and tools provided can be invaluable as new business owners dive into unknown waters, trying to avoid being part of the 80 percent of new small businesses that fail within five years.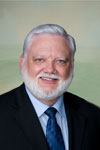 Joe Harper
"I always tell people if they do a business plan on paper and it works, it will probably work in real life," said Joe Harper, SBDC director and leader of a consulting staff that helps people get the most out of their business. "But business owners need to honestly look at themselves and figure out their strengths and weaknesses, and if they are ready to make a business out of their passion."
Harper said that for every dollar invested in the South Texas-region Small Business Development Centers, including the University of Houston-Victoria SBDC, nearly six dollars are returned to those markets in revenue generated by clients.
The UHV SBDC's local reports bear out those claims. During the calendar year that ended last September, local advisors spent over 5,600 hours consulting more than 400 clients in the Coastal Bend region. Their advice to clients helped create 37 new businesses and create 170 new jobs while retaining 388 existing jobs. Business investments from those clients totaled $12,752,000.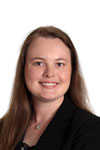 Lisa Barr
Phylis Canion, a doctor of naturopathy and certified nutritional consultant, carried natural products in her office, but quickly needed more space due to demand for the products. She consulted SBDC senior business advisor Lisa Barr before opening the Organic Emporium in Victoria and found her advice solid.
"I had run businesses before, so I knew what I was doing, but they have a lot of forms and information that still benefited me," Canion said. "Our advisor asked if I had done any studies to measure demand, so I began surveying our local customers before I took the plunge."
Canion found the SBDC's salary information helpful as it measured what services in the area are paying and what certain positions pay. She opened the Emporium in August and the business has seen steady growth since.
"Lisa still comes by to check on us, and she helped us with a personnel issue," Canion said. "It's just good for business owners who are so personally involved to get an objective voice. Any small business could utilize the services SBDC offers."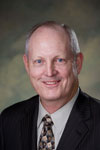 Joe Humphreys
Joe Humphreys, SBDC associate director, said the personal aspect can sometimes blind an enthusiastic business owner to the realities of the market.
"Even before the economic downturn, small businesses don't generally make it five years," Humphreys said. "That's mostly attributable to a lack of planning and a lack of sufficient capital. The reason so many new small businesses fail is that the business is their lifestyle."
He said SBDC can help owners with parts of the business that are their weakness or that they ignore altogether.
"Most people don't plan, but they have a passion for their business, and they are good at what they do," he said. "But when you get a business degree, you learn about finance, accounting, management and marketing. Many people are good at marketing, but not the other three."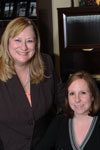 Diane Kliem, left, &
Sara Rodriguez of
Kliem & Rodriguez,
Attorneys at Law
For new law partners Sara Rodriguez and Diane Kliem, who opened Kliem & Rodriguez Attorneys at Law in January, SBDC's services helped them crunch numbers and get a solid business plan before approaching a bank about help with financing.
"We knew we needed a plan," Rodriguez said. "We're attorneys, so we come from a research background. But it's so helpful to get a knowledgeable second set of eyes to look over our plans. We were on the right track, but they helped us with our focus."
Rodriguez said the objectivity an SBDC advisor offers to clients is valuable.
"It's very personal to us, so the advisor sees things differently than we do," she said.
Getting advice early in the process is crucial, Humphreys said.
"What happens many times is that we don't get involved until the crisis phase when the business is about to fail," he said. "Business owners have a tendency to look at the checkbook and the profit statement. But they need to continually plan ahead and seek advice, whether a person is just starting out or wanting to expand an existing business."
Humphreys understands the challenges, having come from an entrepreneurial background.
"I grew up on a farm, so I knew the value of hard work," he said. "I later started my own trucking company which I ran for 20 years until I got into the retail business in El Campo. If I had known then what I now teach to small businesses, it would have changed a lot of things."
Just knowing that the services are offered can convince a struggling business owner to ask for help.
"Many business owners may not know they need help or that it's even offered," Humphrey said. "But we are here to help them make the most of their business. That is the most rewarding part of what we do."
For more information about the UHV SBDC, visit http://www.uhv.edu/small-business/ or call 361-575-8944.
The University of Houston-Victoria, located in the heart of the Coastal Bend region since 1973 in Victoria, Texas, offers courses leading to more than 80 academic programs in the schools of Arts & Sciences; Business Administration; and Education, Health Professions & Human Development. UHV provides face-to-face classes at its Victoria campus, as well as an instructional site in Katy, Texas, and online classes that students can take from anywhere. UHV supports the American Association of State Colleges and Universities Opportunities for All initiative to increase awareness about state colleges and universities and the important role they have in providing a high-quality and accessible education to an increasingly diverse student population, as well as contributing to regional and state economic development.