Close
Students win prizes, get challenged at UHV/VC Math and Computer Science Awareness Day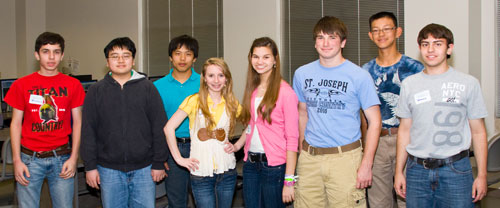 UHV/VC Math and Computer Science Awareness competitors, from left, Shahed Nielsen, Albert Chen, Steven Lin, Ashlee Pawlik, Olivia Creager, Christian Wenske, David Du and Ahmad Sabbagh.
Two Victoria East High School students on Thursday won top honors and two college scholarships at the annual University of Houston-Victoria/Victoria College Math and Computer Science Awareness Day.
Yang Yang and Steven Lin shared first place in the math portion of the contest, topping other competitors from Victoria East and St. Joseph High School. Yang placed first after points from contest exams were tallied.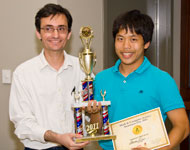 Alireza Tavakkoli, UHV assistant professor of computer science, awards first place and $1,000 in scholarships to Steven Lin of Victoria East High School. (Photo for other top finisher, Victoria East's Yang Yang, not available.)
Yang and Lin were awarded scholarships to both UHV and VC, with Yang winning $2,000 worth, or $500 for four semesters, and Lin winning $1,000 in scholarships, or $250 for four semesters. The computer science portion of the contests was called off due to a lack of participants.
"April is a busy month for high schools in the area with activities from sports to band to statewide tests such as the TAKS," said Alireza Tavakkoli, UHV assistant professor of computer science. "We look forward to working closely with the high school teachers to build the event up and attract more students to participate in our future competitions."
The students took part in contests and saw demonstrations on computer animation and mathematics from UHV faculty members. The keynote address was given by Dmitri Sobolev, UHV assistant professor of biology, who spoke on mathematical patterns in everything from seashells to stars in the galaxy.
Second place awards went to Stephanie Kasper of St. Joseph, who won $250 in scholarships for two semesters, and St. Joseph freshman David Du, who won a VC scholarship.
Shahed Nielsen, a Victoria East freshman, won tuition for two dual-credit courses for his third-place finish. Ahmad Sabbagh of St. Joseph High School also finished third.
Team winners were as follows:
First place – Team Platypi, Stephanie Kasper, Ahmad Sabbagh, David Du and Christian Wenske of St. Joseph.
Second place – Team Titans, Shahed Nielson, Albert Chen, Yang Yang, Steven Lin and Ashlee Pawlik of Victoria East.
Third place – St. Joseph Ligers, Andy Polasek, Theodore Boozalis, Jack Boozales, Olivia Creager, St. Joseph.
The University of Houston-Victoria, located in the heart of the Coastal Bend region since 1973 in Victoria, Texas, offers courses leading to more than 80 academic programs in the schools of Arts & Sciences; Business Administration; and Education, Health Professions & Human Development. UHV provides face-to-face classes at its Victoria campus, as well as an instructional site in Katy, Texas, and online classes that students can take from anywhere. UHV supports the American Association of State Colleges and Universities Opportunities for All initiative to increase awareness about state colleges and universities and the important role they have in providing a high-quality and accessible education to an increasingly diverse student population, as well as contributing to regional and state economic development.