Close
Bilingual writer part of pachanga, final headliner in American Book Review series
The "dean" of Texas Mexican-American letters and author of more than 20 books will bring wisdom gained from a lifetime of reading and writing to the University of Houston-Victoria, part of four days of talent-filled talks and festivities in the Centro Victoria Community Pachanga, or party.
University of Texas creative writing professor Rolando Hinojosa-Smith will be the final speaker in the UHV/American Book Review Spring Reading Series. His talk begins at noon April 21 in the Alcorn Auditorium of UHV University West, 3007 N. Ben Wilson St. The free event is open to the public, and light refreshments will be served.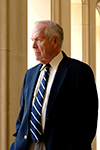 Rolando Hinojosa-Smith
"This will actually be my third trip to Victoria," Hinojosa said. "I was at UHV when it opened in the early 1970s, and the entire campus was in one building, and I was in town in the 1980s when I was invited by the De León Club."
In many ways, Hinojosa-Smith is the prototype South Texan: of Anglo and Mexican descent, bilingual, raised in a rural setting and hard-working. Born and raised in the agricultural town of Mercedes, he developed an early love of reading, encouraged by his Anglo mother and Mexican-American father. Both parents were fluent in English and Spanish.
"I came from a family of readers, and it was really two English teachers in high school who encouraged me to write," he said. "I was omnivorous and read whatever there was, from the Hardy Boys mysteries to poetry."
His junior year in high school, he won an honorable mention in a writing contest and admits, "That was it for me."
He wrote his first piece in Spanish in the summer of 1943 about two field workers. Since then, his career has seen him publish books, poetry and essays, including the 15-volume "Klail City Death Trip" series about a fictional South Texas county.
A military veteran who served in the Caribbean, he also has written about his experiences, including the 1978 "Korean Love Songs." In Victoria, he plans to read two new pieces about Korea – an essay and a short story.
His 1985 book "Partners in Crime" and 1998 follow-up "Ask a Policeman" are novels set amidst the increasingly violent border drug trade. Though fictional, the books proved to be prophetic, and he is saddened at the violence that accompanies Mexico's export of U.S.-bound narcotics.
"The violence throws a lot of people out of work," he said. "The economy in Matamoros is terrible because people won't go eat or shop over there. It's affecting families, too, because it's a typical border situation where a young person from one side marries another from across the border."
Hinojosa teaches the University of Texas "Life and Literature of the Southwest" classes, which were begun by the legendary Texas folklorist J. Frank Dobie. He focuses on Texas' rich, bicultural mix of writing.
"You can't truly reflect literature of the Southwest without either one," he said of Anglo and Mexican-American stories.
But for Hinojosa, writing is something that has to be done, along with teaching the craft and lecturing about writing at seminars around the world. He travels regularly to Spain as a Texas author and ambassador, and last summer, he spent two weeks in Austria teaching Mexican-American literature.
"I make time to write," he said. "I don't sleep much, maybe five hours a night. I travel, spreading the word about what I do, and I love to teach. It's a great life. You won't hear any complaints from me."
Among many writing honors for Hinojosa is the 2007 Bookend Award for Ongoing Literary Achievement, which that year was given to him and UHV tenured professor of Latino studies Dagoberto Gilb at the Texas Capitol.
"Rolando is an icon of South Texas literature, and has been writing and promoting for so many years," Gilb said. "He's been a first in so many areas in our community, and we are lucky for him to be reading during the first Centro Victoria Pachanga."
Jeffrey Di Leo, dean of the UHV School of Arts & Sciences, said the event showcases part of a growing slate of forward-looking publishing initiatives at the school.
"For five years, the ABR Reading Series has brought top authors to speak to our students and the public at the university," he said. "And now, Centro Victoria is helping to build a new audience of readers with their guest artists and their new high school lesson plans. It is truly groundbreaking and indicative of the quality and thoughtfulness of the faculty we have brought to UHV."
While this marks the final ABR reading of the spring semester, Hinojosa's visit is part of the Community Pachanga, which also includes:
Tuesday – TV and film writer, director and producer Jesús Treviño will speak at noon in the Alcorn Auditorium.
Wednesday – Screenings of Treviño's Showtime movie "Resurrection Blvd." will start at 7 p.m. at UHV with a Q&A to follow.
April 21 – Alternative musician and songwriter Davíd Garza of Austin will perform at 5 p.m. at LuRaq's.
April 22 – Screenings of Josefina López's "Real Women Have Curves" will begin at 7 p.m. at UHV.
For more information about the American Book Review Reading Series, visit americanbookreview.org. For more information about Centro Victoria, visit centrovictoria.net.
The University of Houston-Victoria, located in the heart of the Coastal Bend region since 1973 in Victoria, Texas, offers courses leading to more than 80 academic programs in the schools of Arts & Sciences; Business Administration; and Education, Health Professions & Human Development. UHV provides face-to-face classes at its Victoria campus, as well as an instructional site in Katy, Texas, and online classes that students can take from anywhere. UHV supports the American Association of State Colleges and Universities Opportunities for All initiative to increase awareness about state colleges and universities and the important role they have in providing a high-quality and accessible education to an increasingly diverse student population, as well as contributing to regional and state economic development.