Close
UHV speaker eyes Internet production after documenting rise of Chicanos, directing hit TV shows
Director Jesús Treviño wasn't raised in the bright lights of Hollywood. But in his 40-plus-year career, the Los Angeles resident has documented the equal rights movement of Mexican-Americans and risen to heights few have seen as a top director.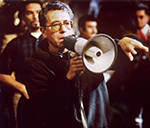 Jesús Treviño
Treviño will be in Victoria next week for Centro Victoria's Community "Pachanga," or party, a four-day slate of events featuring top TV, writing, musical and theater talent. The director of "Law & Order: Criminal Intent," "Bones," "Prison Break" and other TV hits will give a public talk at noon Tuesday in the Alcorn Auditorium of UHV University West, 3007 N. Ben Wilson St.
On Wednesday, Treviño will be on hand for simultaneous screenings of parts of his Showtime production, "Resurrection Blvd.," at 7 p.m. in the Alcorn Auditorium and the UHV University Center Multi-Purpose Room. Treviño will stay to answer questions after the screenings.
"My wife tells me she sleeps for both of us, so I don't have to," Treviño joked about his career, a four-decade constant churn of TV, movies, documentaries and even a book. "But I have been fortunate to get started early as an activist in the Chicano movement. I picked up a Super 8 camera and started documenting the 'movimiento.' That led to a job at the PBS affiliate in Los Angeles, which eventually led to episodic TV."
Treviño's only family connection to the business was his stepfather, who raised him and worked at the concession stand of a drive-in theater in East Los Angeles.
"I remember being 6 years old, and while he was working as a cashier at the concession stand, I would be sitting in a borrowed car watching movies," he said. "It was my introduction to Hollywood movies, with movies like 'House of Wax' and 'The Wolfman.' I'm sure that had some type of influence in terms of shaping my interest in film."
After getting a bachelor's degree in philosophy, Treviño applied to five graduate film schools and was turned down by them all. But his determination to film the Chicano movement of the late 1960s and early '70s put his career in fast forward.
"We were monitoring the bad stuff going on in education in East L.A., things like principals beating up on kids, the feeling of being forced into the 'work' path, and teachers and counselors not helping students explore any type of college option," he said. "That led to my filming documentaries for Chicano organizers to illustrate and organize for the next march."
Treviño said KCET, the local public TV station, heard about "this crazy Mexican kid" filming the movement from the inside and hired him to do the same. He started as a production assistant on the first Mexican-American talk show, but within a month, he was involved as a co-producer and co-host.
"It was a baptism by fire at KCET, but in 1982, 'Yo Soy Chicano' was the first documentary to air nationally that was about Latinos and produced by a Latino," he said of his film that featured activists Jose Angel Gutierrez and Dolores Huerta.
He went to Mexico in 1976 to write and direct "Raices de Sangre," a drama about the plight of maquiladora workers, and he later wrote and directed "Segui´n," a film about Juan Segui´n, the Mexican Tejano who fought on the American side at the Alamo but was later run out of San Antonio by Anglo dissidents. Treviño said he was fortunate to have steady work, but he noticed that not all with brown skin were given the same opportunities.
"Apart from a handful of luminary actors back in the 1930s, '40s and '50s, like Ricardo Montalbon or Cesar Romero, there were very few writers and directors and an almost nonexistent number of producers," Treviño said. "So it was up to my generation to break in. And we have had some success but not as much as I would like."
He praised the work of modern filmmakers Gregory Nava ("Selena," "American Family"), Luis Valdez ("La Bamba") and Robert Rodriguez ("El Mariachi," "Sharkboy and Lavagirl," "Spy Kids"). But he said networks are cautious about using only proven directors because so much money is involved.
"You have to be on the A-list just to be allowed to compete for these shows," he said. "There is more opportunity than ever, but it is also much more competitive than ever. You have to have tenacity."
Treviño said today's new platforms represent new opportunities. When he began, he had to rent equipment for several hundred dollars each week, buy expensive film stock and endure arduous editing. But affordable video cameras and modern editing software have brought the barrier to entry down considerably.
Treviño's current project is "Latinopia.com," a website that will have more than 100 videos by year's end featuring interviews with writers, musicians and more. His long-term goals for Latinopia are educational and entertainment, featuring documentaries, profiles, interviews and history. He eventually hopes to create original dramas of fiction – written, produced and directed by American Latinos, an underrepresented group in both English and Spanish TV.
"Statistically, Latinos use the Internet more than other people, and the younger generation is certainly getting into it," he said. "In my mind, this is the future."
The director will be welcomed by Centro Victoria Managing Director Macarena Herna´ndez, who teaches UHV communications courses.
"Jesús Treviño is a TV giant and pioneer, and we're so lucky that he'll be visiting with us for several days," Hernandez said. "He's been so generous with his time, so we've got a packed four days for him."
Jeffrey Di Leo, dean of the UHV School of Arts & Sciences, said Centro Victoria's work is important in bringing artists to the community, but also in closing the education attainment gaps among ethnic groups.
"What is going on at Centro Victoria is exciting to anyone interested in the arts and to anyone invested in education," he said. "No other university in the country has invested in an initiative like this to reach the growing Latino student population. This is an important part of our educational mission, and Centro Victoria is a big part of what makes UHV a forward-thinking, attractive place for higher education."
Other events scheduled during the pachanga are:
April 21 – University of Texas English professor Rolando Hinojosa-Smith, the "dean" of Mexican-American letters in Texas, will speak as part of the UHV/American Book Review Spring Reading Series. Hinojosa-Smith, author of the Klail City Death Trip series, will talk at noon in the Alcorn Auditorium. Later that day, the public is invited to LuRaq's at 5 p.m. to hear the music of alternative singer/songwriter Davíd Garza of Austin. Trevíno, Hinojosa-Smith and screenwriter Josefina López will be special guests.
April 22 – There will be two simultaneous screenings of the movie "Real Women Have Curves" at 7 p.m. in the Alcorn Auditorium and the Multi-Purpose Room. The film was written by López, who has written and produced more than 80 film and theatrical works. López will take part in a question-and-answer session following the screenings.
For more information about Centro Victoria or the Community Pachanga, visit www.centrovictoria.net.
The University of Houston-Victoria, located in the heart of the Coastal Bend region since 1973 in Victoria, Texas, offers courses leading to more than 80 academic programs in the schools of Arts & Sciences; Business Administration; and Education, Health Professions & Human Development. UHV provides face-to-face classes at its Victoria campus, as well as an instructional site in Katy, Texas, and online classes that students can take from anywhere. UHV supports the American Association of State Colleges and Universities Opportunities for All initiative to increase awareness about state colleges and universities and the important role they have in providing a high-quality and accessible education to an increasingly diverse student population, as well as contributing to regional and state economic development.