Close
UHV professor's novella takes look at fame, fortune, isolation
The University of Houston-Victoria School of Arts & Sciences chair of the Humanities Division has written a tightly composed novella with a unique look at a stage performer who simultaneously deals with adulation and isolation.
"The Mimic's Own Voice," released this week by Main Street Rag Publishing Co. in Charlotte, N.C., follows the career of Douglas Myles, a professional mimic whose rise and fall is chronicled in the 97 pages of Tom Williams' first book of fiction.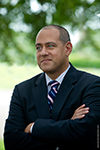 Tom Williams


photo by Kevin Jordan Photography
"I feel like the form chose this story," Williams said. "The big publishing houses prefer the novel to the shorter novella format. But I like the form because you can read it in a short time, yet it can have the impact of a much longer work."
Williams' writes of Myles' rags-to-riches story as he rises to the top of his profession.
"At its base, the story is about an artist's rise and fall," he said. "But it's also about the artist's failures. It's the saddest thing when people are the greatest at their craft, yet off the stage, their talent never brings their family or other people closer."
The Ohio native was drawn to the story by his own admiration for performers, from sports stars to comedians.
"I think it goes back to having been an athlete," he said of his three years playing basketball at Ashland College. "When you're playing, you're conscious of an audience, but at the same time, you can be so focused on the game it's as if you're out there by yourself."
Williams said his high school days were mostly about his sport of choice, yet he read a lot of biographies about his sports heroes – Hank Aaron and members of the powerhouse "Big Red Machine" Cincinnati Reds in the early 1970s.
A love of music blossomed in high school, but not for the popular music of the day. Williams was drawn to the roots music of his parents' generation, which began with seeing Chuck Berry on the "Donnie and Marie Show"and grew to include an encyclopedic knowledge of blues, rockabilly and other American roots music forms.
"I remember being astounded by Chuck Berry and how moving the music was even though his songs were 20 years old by that time," Williams said. "That led to diving into record shops and collecting everything from Eddie Cochran and Gene Vincent, to Muddy Waters and Sonny Boy Williamson."
In college, he began to take reading and writers seriously, beginning with Jack Kerouac and J.D. Salinger and moving on to Ralph Ellison, Philip Roth, Virginia Woolf and others. As with music, one discovery led to another as he investigated influences on those artists.
"I also grew up with good storytellers in my family," he said. "Good fiction moved me and made me want to write."
Williams said there are some autobiographical details in "The Mimic's Own Voice."
"The main character is biracial, as I am, and he grows up in a largely white world, which could describe my school days," Williams said.
Williams channeled his love of writing and music into five years at Arkansas State University editing the Arkansas Review, which specializes in arts features in the Southern Delta region. Williams still is an advisory editor of the publication.
But for now, he will focus on his fiction. Williams recently returned from the Mad River Literary Festival in Connecticut and plans to take part in a writer's conference in Florida later this year.
He is an associate editor of the American Book Review and associate professor of humanities and English at UHV. He lives in Victoria with his wife, Carmen, managing editor at Fiction Collective Two based at UHV, and their 1-year-old son, Finn.
Jeffrey Di Leo, dean of the UHV School of Arts & Sciences, said Williams' book adds to the impressive collection of published works by the school's faculty.
"Dr. Williams' offering is unique, and it points to the diverse group of quality faculty we have at UHV," Di Leo said. "This is an original and imaginative work that contributes to the often-neglected form of the novella."
The University of Houston-Victoria, located in the heart of the Coastal Bend region since 1973 in Victoria, Texas, offers courses leading to more than 80 academic programs in the schools of Arts & Sciences; Business Administration; and Education, Health Professions & Human Development. UHV provides face-to-face classes at its Victoria campus, as well as an instructional site in Katy, Texas, and online classes that students can take from anywhere. UHV supports the American Association of State Colleges and Universities Opportunities for All initiative to increase awareness about state colleges and universities and the important role they have in providing a high-quality and accessible education to an increasingly diverse student population, as well as contributing to regional and state economic development.