Close
Top Arts & Sciences graduates determined, motivated by family
Family members and goals motivated by caring for others were prime factors for the top spring graduates in the University of Houston-Victoria School of Arts & Sciences.
Christina Hughes of Katy is the top graduate student and will receive a master's in counseling psychology, and Rebecca Morgan of Missouri City is the top undergraduate. She will simultaneously complete a bachelor's degree in biology and a Secondary Composite Sciences Teaching Certificate. Both will receive their degrees at one of UHV's spring commencement ceremonies on May 14 at Faith Family Church, 2002 E. Mockingbird Lane.
Every semester, professors from each of the four UHV schools select at least one outstanding graduate from their graduate and undergraduate programs to be honored during commencement. The top Arts & Sciences graduates also benefit from a $250 prize from the UHV Arts & Sciences Excellence Fund.
For the first time, UHV will hold two graduation ceremonies in Victoria to accommodate the university's growth. A 9 a.m. ceremony will be held for graduates of the schools of Business Administration and Education & Human Development. A 1 p.m. ceremony will be for graduates of the schools of Arts & Sciences and Nursing.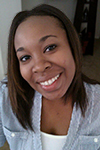 Christina Hughes
For Hughes, the decision to go into psychological counseling didn't stem from any traumatic experience but a genuine fascination with the subject.
"I took an advanced placement psychology class in high school and was fascinated to learn about all the different theories about mental illnesses, and I realized that mental illness is real and affects people," the Houston native said. "Those people need our help."
Hughes now works at the Richmond State Supported Living Center in Richmond, getting hands-on experience as a psychological assistant.
She said her parents were not college graduates but valued education and pushed her to maintain A's and B's on her report cards in high school and college.
"It got to the point where B's were not acceptable," she said with a laugh but added that her parents were her biggest supporters. "They were motivators and kept me feeling like I could do it. They have some trade school and college training, but I will be the first in our immediate family with a bachelor's degree and now a master's degree."
Hughes said she appreciated the convenience of her UHV program and that she could continue working while getting her master's degree.
"We had some really good professors who are knowledgeable in the field, and they are open to sharing that knowledge and being accessible," she said. "It also is one of the few programs that prepares you for a Licensed Professional Counselor license."
Hughes also likes the smaller class sizes offered at UHV.
"I appreciate the instruction and individual attention because I might not have gotten the same attention at a larger school," she said. "My graduate adviser always responded quickly when I had questions."
Hughes plans to obtain her LPC certification and begin doing therapy with children dealing with mental illnesses. Her long-term career plans include obtaining a doctorate in clinical psychology and ultimately returning to a university classroom as a professor.
Family influence also moved the school's top undergraduate, Morgan, to complete her degree. For four years, she sacrificed by putting family and school at the center of her life.
The Fort Bend ISD student teacher and her husband, an engineer, have four children from college age down to grade school. But she set her mind on achieving her degree, and four years later, it has become a reality.
"It was difficult working and juggling responsibilities, but that's what I chose to do,"the Bandera native said. "I don't watch TV, I just do school, family and church on Sundays. Education became my priority."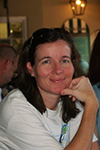 Rebecca Morgan
Morgan joked that she already had "a Ph.D. in children" but was serious about applying herself to her biology degree and teaching certification.
"I used to have a dream where I would show up for class and find out there's a final that I hadn't prepared for," she said. "But once I began taking classes, I never had the dream again. If you love learning, that feeling never goes away."
Morgan said she was able to take part in a prostate cancer study during her biology classes. That inspired her to one day continue her research and do what she can to help find a cause or a cure for any type of cancer. During her education, she also was inspired by a close family member who dealt with breast cancer.
"My mother-in-law has had breast cancer for 20 years, and she has done better than most in dealing with it," she said. "In fact, she is a study subject at a hospital. But she motivates me tremendously and was probably my biggest cheerleader through all this."
Depending on her financial situation, Morgan may pursue a graduate degree. But she will have a second child entering college next year and wants to help her children make education a top priority.
She said UHV offered the courses and quality she needed and wanted. But Morgan added that she was proactive, asked a lot of questions and saw her adviser regularly.
Jeffrey Di Leo, dean of the UHV School of Arts & Sciences, said the university has the quality faculty found at larger universities and a growing slate of degree programs that will appeal to traditional and returning students.
"Ms. Hughes and Mrs. Morgan showed that determination breeds inspiration, and they should be commended for working their way through college while dealing with other responsibilities," he said. "So many of our students are hard-working and dedicated, and we know they will prove more valuable to their employers as they apply their training."
The University of Houston-Victoria, located in the heart of the Coastal Bend region since 1973 in Victoria, Texas, offers courses leading to more than 80 academic programs in the schools of Arts & Sciences; Business Administration; and Education, Health Professions & Human Development. UHV provides face-to-face classes at its Victoria campus, as well as an instructional site in Katy, Texas, and online classes that students can take from anywhere. UHV supports the American Association of State Colleges and Universities Opportunities for All initiative to increase awareness about state colleges and universities and the important role they have in providing a high-quality and accessible education to an increasingly diverse student population, as well as contributing to regional and state economic development.