Close
UHV Spring Nursing Forum to bring experts to address health care changes
A University of Houston-Victoria School of Nursing event will help answer questions about the shifting landscape of health care on May 5 as a kickoff to National Nurses Week.
The UHV Spring Nursing Forum will host speakers to address "The Impact of Changes in Health Care on Nursing Education and Practice."
Registration will begin at 12:30 p.m., accompanied by networking and refreshments. The program will be from 1 to 5:30 p.m. at the Alcorn Auditorium in UHV University West, 3007 N. Ben Wilson St.
"We will hear from experts who can directly respond to the 2010 Institute of Medicine report, 'The Future of Nursing,'" said Jere Hammer, UHV assistant professor of nursing and president of the UHV Honor Society of Nursing. "It's quite a coup for us to host the leading minds in the field in Texas and talk about how we can reach the recommendations in the report."
The Institute of Medicine report focused on nursing practice, regulation and education as it relates to the 2010 Affordable Care Act. Among other recommendations, the report advocates for an improved education system where 80 percent of Registered Nurses get their bachelor's degrees and a seamless transition from community colleges to universities for continuing education.
Lorraine Frazier, the forum's presenter, is a leading authority in the nursing field and is from Texas Gov. Rick Perry's "Texas Team," which was created in 2008 as a response to a call to develop a plan to meet nursing workforce demands by 2020.
Frazier works at the University of Texas Health Sciences Center at the Houston School of Nursing. Frazier is the Robert Wood Johnson Foundation's Executive Nurse Fellow, a program focused on expanding the role of nurses to lead the change in the U.S. health care system.
A panel of additional experts also will be on hand to talk about ways to meet the IOM recommendations.
Those include Janice Hooper of the Texas State Board of Nursing, health policy attorney Janice Suchyta of Sugar Land, and Nurse Practitioner Jean Gisler, who advocates for nurses to practice to the full extent of their education; as well as representatives from the nurse administration and practice field, the nurse database field and nurse-physician collaboration field.
Also among the panelists will be Deborah Yancey, director of the associate degree nursing program at Wharton County Junior College, and Kathryn Tart, founding dean of the UHV School of Nursing.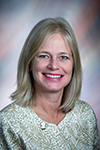 Kathryn Tart
"This is a dynamic opportunity to hear from leaders in the field who are bringing new and cutting-edge approaches to the nursing profession," Tart said.
The report also will honor UHV's latest Master of Science in Nursing graduates, who will present their capstone projects in poster form. An award will be presented for the most outstanding poster.
Cost to attend the forum is $20 before April 29 or $25 at the door. The cost for UHV nursing students is free with advanced registration or $10 at the door. Those planning to attend should register early as seating is limited.
The event is hosted by UHV, the UHV Honor Society of Nursing, and the Texas Nurses Association, District 20. It is open to any Licensed Vocational Nurse, Registered Nurse or Advanced Practice Nurse. Nursing contact hours have been applied for through the Texas Nurses Association.
To register for the forum online and pay by check or credit card, visit www.uhvconnect.org/event/nursingforum. For more information, contact the UHV School of Nursing at 361-570-4370 or nursing@uhv.edu.
National Nurses Week is May 6 through 12, the birthday of Florence Nightingale, considered the founder of modern nursing. This year's theme is "Nurses Trusted to Care." National Nurses Week is sponsored by the American Nurses Association and highlights the contributions of nurses around the country, whether in emergency rooms, schools, homeless shelters or anywhere that these caring, competent professionals are found.
The University of Houston-Victoria, located in the heart of the Coastal Bend region since 1973 in Victoria, Texas, offers courses leading to more than 80 academic programs in the schools of Arts & Sciences; Business Administration; and Education, Health Professions & Human Development. UHV provides face-to-face classes at its Victoria campus, as well as an instructional site in Katy, Texas, and online classes that students can take from anywhere. UHV supports the American Association of State Colleges and Universities Opportunities for All initiative to increase awareness about state colleges and universities and the important role they have in providing a high-quality and accessible education to an increasingly diverse student population, as well as contributing to regional and state economic development.