Close
UHV grieves loss of former head of business studies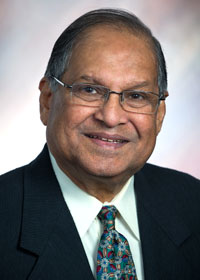 Vassudeo "Ron" Sardessai
Vassudeo "Ron" Sardessai, a management professor at the University of Houston-Victoria since 1985, died on Wednesday at his home in Missouri City. He was 70 years old.
"We are deeply saddened by the loss of a dedicated colleague and friend of the School of Business Administration," said Farhang Niroomand, dean of the UHV School of Business Administration. "He has contributed in many ways to the school's growth and success, from educating students, to hiring faculty and staff, to helping out with day-to-day activities. We will dearly miss Dr. Sardessai."
Friends and family are invited to a memorial service at 3 p.m. Sunday at the Sardessai home in Missouri City, said his son, Raj Sardessai of Houston. Formal funeral services will be held at 11 a.m. Tuesday at Garden Oaks Funeral Home, 13430 Bellaire Boulevard, in Houston.
Two faculty members will fill in so students can complete his "Contemporary Management Issues" graduate class this semester.
Niroomand praised Sardessai's dedication to preserving and defending the dignity of higher education.
"He will be remembered for his belief that the work we do is noble, and that we should approach it with a sense of reverence and humility," he said.
UHV Interim President Don Smith said Sardessai was a longtime personal friend and asset to the university.
"I have known Ron for 25 years. He has been a cherished part of my life, and in memory he will remain that," Smith said. "He has also been an important part of the university's history and a primary contributor to its development."
Sardessai began teaching at UHV in 1985 as an assistant professor of business, later becoming an associate professor, then chair of the UHV Division of Business, which preceded the School of Business Administration. He taught courses in contemporary issues in management as well as organizational behavior.
He was a former task force committee member for the G-7 Economic Summit in Houston and a former member of the International Visiting Accreditation team for the Southern Association of Colleges and Schools. He served as president of the Texas Council of Collegiate Education in Business, an association of deans of schools of business administration. He was well-regarded by faculty and students alike.
Rupak Rauniar, a UHV assistant professor of management, said he found the news difficult to believe.
"In the short time I have been with UHV, I found him a gentleman with high moral character, a friend who cared, and a mentor who was concerned about the well-being of all his faculty members," Rauniar said.
Randy Faulk, user services administrator in the UHV Information Technology Department, said Sardessai was professional as both a teacher and client.
"We in the I.T. Department considered Dr. Sardessai a friend," Faulk said. "He was the ultimate in what we like in a computer user: He demanded the best from us but was always on our side. I also was fortunate to take one of Dr. Sardessai's classes, and he treated students the same way. If we ran into him around lunch time, he would always offer to buy, and we had some great lunchtime conversations."
Sardessai was born in Margao, Goa, India. He received a bachelor's degree in English from Bombay University in Bombay, India, in 1963. He was awarded his master's and doctoral degrees in management from the University of North Texas in 1969 and 1977, respectively.
Sardessai began his teaching career in 1969, working at Tennessee State University, the University of Texas-Tyler and the University of Wisconsin-Parkside, before settling in Victoria in 1985.
He was an avid fan of soccer, football and basketball.
The University of Houston-Victoria, located in the heart of the Coastal Bend region since 1973 in Victoria, Texas, offers courses leading to more than 80 academic programs in the schools of Arts & Sciences; Business Administration; and Education, Health Professions & Human Development. UHV provides face-to-face classes at its Victoria campus, as well as an instructional site in Katy, Texas, and online classes that students can take from anywhere. UHV supports the American Association of State Colleges and Universities Opportunities for All initiative to increase awareness about state colleges and universities and the important role they have in providing a high-quality and accessible education to an increasingly diverse student population, as well as contributing to regional and state economic development.