Close
Top UHV education graduates can't wait to lead in classroom
Armed with new degrees, the top spring graduate and undergraduate students from the University of Houston-Victoria School of Education & Human Development can't wait to apply what they have learned to the classroom setting.
Trisha Harvey of Houston is the top graduate student and will receive a Master of Education in elementary curriculum and instruction, and Brandy Hutcheson of Lockhart is the top undergraduate. She will receive a Bachelor of Science in Interdisciplinary Studies. Every semester, professors from each of the four UHV schools select at least one outstanding graduate from their graduate and undergraduate programs to be honored during commencement.
Both Harvey and Hutcheson will receive their degrees at one of UHV's spring commencement ceremonies on May 14 at Faith Family Church, 2002 E. Mockingbird Lane. A 9 a.m. ceremony will be held for graduates of the schools of Business Administration and Education & Human Development. A 1 p.m. ceremony will be for graduates of the schools of Arts & Sciences and Nursing.
As the top graduate student in the School of Education & Human Development, Harvey is working in the Klein Independent School District but has her eye on a position as a curriculum writer or junior college instructor. The Chesterfield, Mo., native is a special education co-teacher but wants to step up to her own classroom.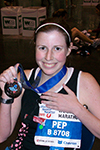 Trisha Harvey
"I feel well-prepared, especially because my degree has an emphasis as a master math teacher," Harvey said. "I liked UHV, and I really liked the professors because they were supportive, understanding and encouraging. They helped me so much along the way."
Harvey's biggest challenge, she said, was getting back into "school mode" after sitting out since she received her bachelor's degree in secondary education in 2006 from Westminster College in Fulton, Mo. But she began her quest in January 2009, using UHV's all-online Master of Education offering, and completed her degree in just more than two years.
"It was convenient for my schedule," she said. "I found out about this option while working as a substitute teacher, and I thought this would be better than having to work school around my job."
Harvey said she looked around the Houston area and found that UHV was affordable.
Now, Harvey and her husband will trade places as he plans to pursue a graduate degree in petroleum engineering. She looks forward to advancing her teaching career.
"If I stay with social studies, I'd like to teach at the high-school or middle-school level," she said. "But if I teach math, I'd like to be with the fourth through eighth grades. I like that age group, especially with math because you can do a lot of hands-on activities and they are still excited about learning math."
Top undergraduate Hutcheson also is raring to go after she completes her bachelor's degree in interdisciplinary studies with a concentration in middle school education. She is a fourth-generation teacher and grew up as her father taught at the high school level in the Victoria Independent School District. Hutcheson is completing her student-teaching requirement in the Lockhart school district.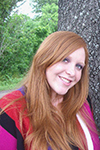 Brandy Hutcheson
"My student teaching was split and allowed me to work with fifth- and seventh-grade students, and I loved both age groups for different reasons," she said. "I can't wait to get into the classroom and put what I've been learning into practice. I love working with the kids, learning the curriculum, and all the procedures and details about how schools work."
Hutcheson, who was married in December, lives with her husband in Lockhart, where he works as an insurance agent. But the Victoria native said UHV and its course offerings were the perfect fit for her while getting her bachelor's degree.
"I checked other colleges, but they would have been a lot more expensive," she said. "UHV was the easiest way to go. The time seemed to go by quick, and UHV made it easy to be successful."
She also was supported by family and the company she worked for while getting her degree.
"My bosses at the Victoria Insurance Group saw the importance of letting me go to college, so they worked with my schedule during tough semesters and let me off early on some days. They were a team of people who really supported me."
Hutcheson dove into her studies and completed her degree a semester short of four years. Now she looks forward to beginning her teaching career, settling into a home and starting a family.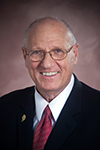 Lawrence Rossow
"In five years, I'd like to be teaching and have a couple of children and a home with my husband," she said. "Right now, I don't plan to move into administration, but you never know. I do know I am ready to get started, and teaching is what I want to do."
Lawrence Rossow, dean of the UHV School of Education & Human Development, said the students' dedication shows that they are ready to instruct the next generation.
"Ms. Harvey and Ms. Hutcheson are to be commended for being top graduates with all of the other responsibilities they had during their education," Rossow said. "They are two examples of the quality training that our students receive in the School of Education & Human Development, and they will be an asset to any school district."
The University of Houston-Victoria, located in the heart of the Coastal Bend region since 1973 in Victoria, Texas, offers courses leading to more than 80 academic programs in the schools of Arts & Sciences; Business Administration; and Education, Health Professions & Human Development. UHV provides face-to-face classes at its Victoria campus, as well as an instructional site in Katy, Texas, and online classes that students can take from anywhere. UHV supports the American Association of State Colleges and Universities Opportunities for All initiative to increase awareness about state colleges and universities and the important role they have in providing a high-quality and accessible education to an increasingly diverse student population, as well as contributing to regional and state economic development.