Close
Professors win $10,000 summer research grants from UHV
Two new assistant professors at the University of Houston-Victoria will receive $10,000 faculty junior research grants this summer.
Dmitri Sobolev, an assistant professor of biology, will examine coral samples in hopes of finding a previously unknown biosphere, and Jun Yang, an assistant professor of marketing, will measure social media effectiveness for online retailers.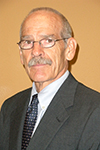 Don Smith
"We are proud to support our talented new faculty members in helping them begin the research component of their academic careers," UHV Interim President Don Smith said. "UHV is proud to continue the tradition of university faculty members' search for knowledge, and we look forward to seeing the results from these two talented academics."
The grants have been awarded three times since 2009 when UHV instituted them. A committee of tenured professors evaluates and then recommends the awards.
Sobolev's grant findings could open up an unknown world in biology research. He will do a DNA survey on samples of previously collected nuisance microbial mats from coral reefs.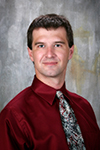 Dmitri Sobolev
"Life is divided into three domains: bacteria, archaea and eukarya," said Sobolev, who joined UHV in fall 2009. "It is clear that archaea are responsible for some biochemical processes that we thought bacteria were responsible for. But no one has looked at their role in that system." 
The research could lead to discoveries about nuisance control and potentially developments of future drugs.
Sobolev said he will use the grant findings to create a data set for a "big view" grant application to further his research. In May, he and graduate student Matt Boyett will present the work that led to the development of the proposal at the American Society for Microbiology national meeting in New Orleans.
Yang compiled data on 500 e-tailers, businesses that sell products via the Internet, to find out what they do right and measure how successful social media initiatives are in driving customers to their websites.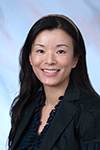 Jun Yang
"We will study how these e-tailers use their websites, their customer satisfaction and marketing activities, ease of payment and other variables," Yang said. "We hope to identify the key successful factors for e-tailing and see if social media is a true part of it or just a fad in the industry."
Her study also will examine how e-tailing and social media results differ across industry categories and between those that are strictly online and those that are a mix of online and traditional brick-and-mortar retail operations.
Yang also joined UHV in fall 2009, and she has taught a variety of marketing courses.
"I am honored to receive this research grant from the university to support my work," she said. "This research will lead to further study on the links between e-tailing and social media."
The University of Houston-Victoria, located in the heart of the Coastal Bend region since 1973 in Victoria, Texas, offers courses leading to more than 80 academic programs in the schools of Arts & Sciences; Business Administration; and Education, Health Professions & Human Development. UHV provides face-to-face classes at its Victoria campus, as well as an instructional site in Katy, Texas, and online classes that students can take from anywhere. UHV supports the American Association of State Colleges and Universities Opportunities for All initiative to increase awareness about state colleges and universities and the important role they have in providing a high-quality and accessible education to an increasingly diverse student population, as well as contributing to regional and state economic development.