Close
UHV freshman business major chronicles soccer, college life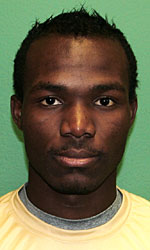 Walter Anoruo
College is a whirlwind of experiences from study sessions to lectures, time with friends and more. And if a person isn't careful, those years and memories can fly by and disappear in the blink of an eye.
But University of Houston-Victoria freshman Walter Anoruo has found a way around that. The 19-year-old is one of two freshmen documenting their life and time as a Jaguar online in the blog "My UHV Experience."
Writing is fairly new for Anoruo, a native of Lagos, Nigeria, whose family now lives in Houston. He said he became interested in the pastime shortly after college began.
"I started writing about the things that went on, and I wanted to do it poetically," the business major said. "I just basically needed to get stuff off my mind, and this helped."
His pages document everything from power outages at Jaguar Hall to student events and a Spring Break trip to the beach. His favorite is a poem called "Faint Scent" about what's in the air on Valentine's Day.
It isn't all about the blogging, however. As a member of the university's first-ever men's soccer team, Anoruo often finds himself on the field when he's away from the classroom.
He said he's enjoyed his time with the team but admitted the team didn't mesh overnight. Each of the players comes from a different background, and it takes time to build those relationships.
"We've had our ups and downs because we're a new team," he said. "But it's been a good experience. We've gotten a lot closer, and the team got better as things went on."
Looking ahead, the 19-year-old said he hopes to immediately get into professional soccer. Athletic careers can be unpredictable, however, so he also plans to obtain a master's degree.
"I want to make sure I'm ready for the future," he said. "I need a backup plan, just in case."
In the meantime, he plans to continue his blog, where he records both the adventures that come to him and those he finds himself.
"If there's nothing going on, sometimes you have to go search for something to do," he explained. "Make sure you get your work done first, but after that, you're free to do whatever you want and experience what you want."
Visit Anoruo's blog at www.uhv.edu/underclassmen/Blogs01/default.aspx.
The UHV Outstanding Student is an online feature highlighting the exceptional students who attend the University of Houston-Victoria. To nominate a student, contact Paula Cobler, interim director of marketing and communications, or call 361-570-4350.
The University of Houston-Victoria, located in the heart of the Coastal Bend region since 1973 in Victoria, Texas, offers courses leading to more than 80 academic programs in the schools of Arts & Sciences; Business Administration; and Education, Health Professions & Human Development. UHV provides face-to-face classes at its Victoria campus, as well as an instructional site in Katy, Texas, and online classes that students can take from anywhere. UHV supports the American Association of State Colleges and Universities Opportunities for All initiative to increase awareness about state colleges and universities and the important role they have in providing a high-quality and accessible education to an increasingly diverse student population, as well as contributing to regional and state economic development.