Close
National Institutes of Health nutrition science expert to visit UHV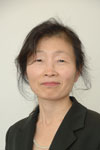 Young Kim
A National Institutes of Health expert will visit the University of Houston-Victoria to discuss the science of diet and how it relates to cancer prevention.
Young Kim, an expert in nutritional biochemistry from the NIH in Bethesda, Md., will tour UHV facilities in Victoria and talk to faculty and graduate students at a 2 p.m. Wednesday grant workshop in Room 305 of the UHV University Center, 3007 N. Ben Wilson St.
On Thursday, Kim also will visit UHV programs at the University of Houston System at Sugar Land and give a 6:30 p.m. talk to graduate students and the public in the Brazos Hall Multi-Purpose Room. This talk will be available to students, faculty and the public in Victoria via Interactive TV in Room 305 of the University Center. She will hold a more in-depth science talk for graduate students at 7:30 p.m. at the Brazos Hall Multi-Purpose Room and the public also is welcome to attend.
Kim's speech is part of an ongoing series of lectures on cancer prevention for biomedical sciences graduate students, led by Richard Gunasekera, UHV professor and director of graduate biology studies. In the final talk of the spring semester, she will speak in place of John Milner, director of the Nutritional Science Division of the National Cancer Institute, who is unable to attend.
Kim joined the Division of Cancer Prevention at the National Cancer Institute, part of the NIH, in 1998. She oversees NCI grants in nutrition and cancer. Her current research focuses on nutrition's molecular-level influences on cancer processes and genetic patterns that can be influenced by nutrients.
She and her NIH colleagues estimate that 30 percent of cancers relate to dietary habits. Though dietary needs differ by individuals, several studies have shown that a reduced-calorie diet higher in fruits and vegetables has been linked to decreased cancer rates in several studies. Her community talk is titled "Cancer Prevention by Cruciferous Vegetables."
"I will talk about the nutritional qualities of these types of foods, which include greens, cabbage, broccoli and similar green-leaf vegetables," Kim said. "The name 'cruciferous' comes from the Latin word 'cruciferae,' and it deals with the shape of the plant's flowers, whose four petals form a cross."
Kim said cruciferous vegetables are one of the dominant food crops worldwide and are considered to be full of promising cancer preventive agents. The NIH studies these phytochemicals found in cruciferous vegetables, which are thought to promote human health and reduce diseases.
Her talk to graduate students will be on the "-omics" of nutrition in cancer prevention, and will touch on the emerging fields of nutrigenomics, epigenetics and nutritional metabolomics, which deal with metabolism and how different foods affect it.
"We are honored to have Dr. Kim visit us all the way from Bethesda to come to discuss these relevant societal issues and advise us on grant writing," Gunasekera said. "We scientists at UHV researching cancer and its prevention are interested in changing the public's health behavior. This begins with public and professional education, which is a part of UHV's mission. We are always excited to bring experts to speak with our students and the public, and work as a team to one day cancel cancer."
Gunasekera's own research focus is on cancer prevention studies at genetic and cellular levels, including nutrigenomics and safe uses of preventative food and exotic products in cancer prevention.
For more information about the talk, contact Gunasekera at 281-275-8826 or gunasekerar@uhv.edu.
The University of Houston-Victoria, located in the heart of the Coastal Bend region since 1973 in Victoria, Texas, offers courses leading to more than 80 academic programs in the schools of Arts & Sciences; Business Administration; and Education, Health Professions & Human Development. UHV provides face-to-face classes at its Victoria campus, as well as an instructional site in Katy, Texas, and online classes that students can take from anywhere. UHV supports the American Association of State Colleges and Universities Opportunities for All initiative to increase awareness about state colleges and universities and the important role they have in providing a high-quality and accessible education to an increasingly diverse student population, as well as contributing to regional and state economic development.