Close
UHV faculty honored with awards for teaching, service, research
Three University of Houston-Victoria faculty members were selected by peers and students to receive awards commending their teaching excellence, faculty service, and research and scholarly activity.
Richard Gunasekera was honored with the 2010-2011 Enron Teaching Excellence Award. The Research and Scholarly Activity Excellence Award went to Siva Somasundaram, and Ziad Swaidan was awarded the Distinguished Faculty Service Award.
The three were selected by committees who oversaw nominations and selected finalists before choosing a winner. This year's trio of winners will receive a plaque and a monetary award, and will be recognized at UHV's May 14 spring commencement ceremonies.
"Though we admire all faculty members at UHV, these three scholars are deserving of this special recognition," UHV Interim President Don Smith said. "The commitment they show to their students and their dedication to service and scholarly work are evident and commendable."
Gunasekera, a professor and the director of graduate biological sciences in the UHV School of Arts & Sciences, won the Enron Teaching Excellence Award from among 56 nominations. The award was established in 1993 through an endowment to the University of Houston System. UHV students nominate professors who exemplify innovative, high-quality instruction that is relevant to their lives and careers.
"Students praised Dr. Gunasekera for superior teaching skills, enthusiasm for the subject and his ability to engage and motivate them," said Vera Adamchik, chairwoman of the Enron Teaching Excellence Award committee. "They also admired the personal attention he provides in and out of the classroom."
The professor said his interests in teaching stem from his own fascination for scientific discovery and his dedication to sharing discoveries with his students.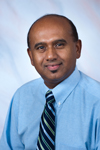 Richard Gunasekera
"I see my role as one of stewardship that facilitates learning and growth," he said. "I maintain an open-door policy and urge my students to talk to me about science, not just their grades. I have found this to be a fulfilling experience, helping to shape well-rounded and equipped individuals for a fruitful career." 
Gunasekera also has contributed heavily to curriculum development at UHV. He is the founder of the biology undergraduate program as well as the graduate programs of biomedical, bioinformatics and forensic science. He has developed more than 30 courses within the four programs and was the winner of the Research and Scholarly Activity Excellence Award last year.
"We at UHV would not be able to do much without the support, encouragement and hard work of our students and colleagues," Gunasekera said. "I am further encouraged to serve, and I am blessed to be a blessing to others."
The Research and Scholarly Activity Excellence Award recognizes professors who have worked at the university for at least three years and demonstrated a commitment to service activities, including making public appearances, consulting, serving on committees and participating in student recruitment and job placement. UHV staff members and students are invited to submit nominations.
In 2010, Somasundaram, an associate professor and the director of undergraduate biology studies in the UHV School of Arts & Sciences, completed several journal publications, gave research presentations and grant proposals, and also participated in the review of presentations and proposals. He said he is glad to take an active role in promoting the institution's research efforts.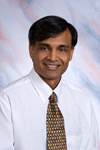 Siva Somasundaram
He has received U.S. Department of Agriculture research grants in collaboration with the Vegetable and Fruit Improvement Center at Texas A&M University. His research also includes collaborations with the University of Texas Health Science Center in Houston to investigate painkiller-induced intestinal ulcers.
"Publishing scholarly activity shows the public that we do research, and it helps our students who may want a research-based career in the academic or industrial sectors," he said. "Our university's research efforts help develop leadership skills in our students. It makes them feel good about our institution and what it has to offer academically."
Since he began teaching at UHV in 2002, Somasundaram has published 15 research articles in peer reviewed journals, contributed two chapters in books, and presented talks and papers at more than 10 national and international conferences and meetings.
Each year, UHV faculty members also recognize a peer instructor who serves the university in various capacities with the Distinguished Faculty Service Award. Swaidan, an associate professor of marketing in the UHV School of Business Administration, was praised by peers.
"Dr. Swaidan has contributed to multiple university committees and been actively involved within the School of Business Administration," said Andrew Baerg, an assistant professor of communication who chaired the Distinguished Faculty Service Award committee.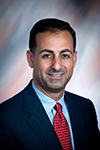 Ziad Swaidan
Swaidan said he was honored to be recognized by his fellow faculty members.
"It is always a great pleasure to be recognized," Swaidan said. "There is much to be done in service in the school, the university, the profession and the community, and I view it as part of my duty to help where I can."
In addition to his award this year, Swaidan was the recipient of the research award in 2006 and the Enron Teaching Excellence Award in 2009.
"We are proud to have these excellent faculty members lead parts of our learning environment and encourage our students to strive toward their higher education goals," said Suzanne LaBrecque, UHV provost and vice president for academic affairs. "Their achievements and inspiration in the classroom continue to help us be recognized as a quality institution where students will be challenged and rewarded."
The University of Houston-Victoria, located in the heart of the Coastal Bend region since 1973 in Victoria, Texas, offers courses leading to more than 80 academic programs in the schools of Arts & Sciences; Business Administration; and Education, Health Professions & Human Development. UHV provides face-to-face classes at its Victoria campus, as well as an instructional site in Katy, Texas, and online classes that students can take from anywhere. UHV supports the American Association of State Colleges and Universities Opportunities for All initiative to increase awareness about state colleges and universities and the important role they have in providing a high-quality and accessible education to an increasingly diverse student population, as well as contributing to regional and state economic development.