Close
Change is good for top UHV School of Nursing graduates
A career change and an eye to educate, coupled with a strong desire to help others, motivated the top spring undergraduate and graduate students in the University of Houston-Victoria School of Nursing.
Linda Lim-Buckingham of Sugar Land is the top undergraduate and will receive a Bachelor of Science in Nursing during UHV's spring commencement. Bonnie Riley of Richmond is the top graduate student and will be awarded a Master of Science in Nursing with a nurse educator concentration. Each semester, professors from the four UHV schools select at least one outstanding graduate from both their graduate and undergraduate programs to be honored during commencement.
Lim-Buckingham and Riley will receive degrees during the second UHV spring commencement ceremony on Saturday at Faith Family Church, 2002 E. Mockingbird Lane. The 9 a.m. ceremony will be for graduates of the schools of Business Administration and Education & Human Development. The 1 p.m. ceremony will be for graduates of the schools of Arts & Sciences and Nursing.
The School of Nursing also will recognize its new graduates in a separate pinning ceremony at 3:30 p.m. Saturday at the church. Janet Leatherwood, vice president and chief nursing officer of the Methodist Sugar Land Hospital, will be featured speaker. Leatherwood also is chair of the UHV President's Regional Advisory Board.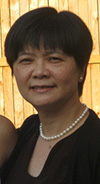 Linda Lim-Buckingham
Like many students, Lim-Buckingham came to UHV after receiving an associate degree in nursing from an area community college, but she came into nursing from a nontraditional path.
She began her career as a computer programmer in California. After working in the Golden State for years, her husband was transferred to the Houston area, and the couple put down new roots. But that move coincided with a difficult time in the technology field as thousands of laid-off Enron computer programmers flooded the job market after that company folded.
Lim-Buckingham had difficulty finding computer work, so she began looking at a career change. Nursing piqued her interest.
"A friend told me about getting an associate degree from a community college, so I began working toward that," she said. "I graduated in 2006 and began working at Memorial Herman Southwest Hospital in Houston as a medical-surgical nurse."
Three years later, the Registered Nurse decided she wanted to pursue a Bachelor of Science in Nursing, so she enrolled in UHV's RN to BSN program, learning from coworkers who were some of the program's first graduates.
She grew to love nursing since she put more of herself into her work than she did in her programming job, she said.
"In nursing, I use my brain, hands, feet and my heart – all of me," she said. "It is very fulfilling because if I can make a difference in one person's life, the reward is priceless."
Lim-Buckingham also is able to apply her computer background as that field uses more technology.
The Philippines native said family was her biggest motivator during her studies, and she strives to be a good example to her daughter. Now, her daughter is taking prerequisite courses to follow her mother into the nursing field.
Though often dealing with a lack of sleep and juggling work, school and family, her dedication paid off with a 4.0 grade-point average. Her instructors called her an engaged, active learner who was a role model for her peers.
And Lim-Buckingham wants to carry on with her graduate degree. Her five-year goal is to obtain her master's degree and work as a nurse practitioner.
"I am honest with my daughter, and I tell her it's not all a bed of roses – there can be thorns," she said. "But the nursing profession is very rewarding."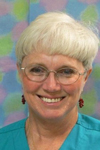 Bonnie Riley
As the top graduate student, Riley has been rewarded by the nursing field for 40 years, but now she is looking to the classroom to share her knowledge.
Riley is the manager of the Birthing Center at Methodist Sugar Land Hospital and estimates she has seen more than 15,000 babies born during her career. The care she and others give, and the advanced medical practices, are something to be thankful for.
"It is wonderful how good our obstetrics care is in this country," she said. "When you compare it with third-world nations, where about one in 20 women die from childbirth, it is amazing how few children and mothers we lose here. People might complain about their hospital care, but they don't realize that other countries still have high mortality rates, and I don't want people to ever have to know what that is like."
Riley will continue in her current managerial role but will begin work as an adjunct faculty member at the University of Houston System at Sugar Land, where UHV offers the nursing program. This summer, she will be a clinical faculty member for UHV students in the Second Degree BSN program.
The Tyler native and Houston resident has been an RN in the Greater Houston area since 1984. Getting her master's degree was challenging, but she continues to be motivated by her love of the profession.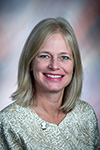 Kathryn Tart
"Getting my master's was difficult, considering my work commitments," she said. "Methodist Sugar Land went through a huge expansion while I was studying, so there was a lot of competition for my time."
But Riley said she didn't have the barriers of many of the younger nurses who are raising children. Her own children are grown.
"I love nursing. I always have, and I always will," she said. "But when I can't continue to do this, I want to go and teach."
Kathryn Tart, founding dean of the UHV School of Nursing, said these graduates personify the dedication and drive of the top nurses in the profession.
"Ms. Riley and Ms. Lim-Buckingham will continue to be talented professionals and representatives of the nursing industry," she said. "We are molding our students with rigorous studies and quality instruction, and they will make a difference in their hospital and the community."
The University of Houston-Victoria, located in the heart of the Coastal Bend region since 1973 in Victoria, Texas, offers courses leading to more than 80 academic programs in the schools of Arts & Sciences; Business Administration; and Education, Health Professions & Human Development. UHV provides face-to-face classes at its Victoria campus, as well as an instructional site in Katy, Texas, and online classes that students can take from anywhere. UHV supports the American Association of State Colleges and Universities Opportunities for All initiative to increase awareness about state colleges and universities and the important role they have in providing a high-quality and accessible education to an increasingly diverse student population, as well as contributing to regional and state economic development.