Close
'World War Z' is next Community of Readers book
Community members, along with University of Houston-Victoria faculty, staff and students, will read an inventive novel that mixes history, science fiction, psychology and politics as the next book in the university's Community of Readers program.
"World War Z" by Max Brooks was chosen for the 2011-2012 common reading program, which promotes a shared reading experience between first-year UHV students and the larger community. The Community of Readers also stresses the importance of reading. Books chosen for the program are free to UHV freshmen, faculty and staff.

Libby Rhoades
"This is an opportunity to join in a year-long series of activities and events to connect with each other as fellow readers and learners and study the themes of the book," said Libby Rhoades, Community of Readers chairwoman and associate professor of school psychology. "This is a wonderful opportunity for our students to join the academic community as fellow explorers of ideas."
The committee also recently named its first freshman essay contest winners.
Taking top prize, a new iPad, was Tara Williams of Howell, Mich. Stacie Garcia of Victoria won second prize, a Sony video camera, and Michelle Orta of Port Lavaca won third place, a $50 Amazon.com gift card. Honorable mention went to Dashia Brock of Victoria.
The top staff prize was awarded to Tracey Moore-Sweeney, grant facilitator in UHV University Advancement, who won a $50 gift card and $50 cash. Other staff winners were student receivable specialist Ashley Sisson, Assistant Facilities Director Charlie Striedel and Joan Bauman, senior secretary in the School of Nursing.
"World War Z," published in 2006, takes a serious look at a fictional and fantastical premise.
"The book manages to be tragic and terrifyingly spot-on about how the world governments today could fail when confronted by a horror of tremendous proportions," Rhoades said. "It also is a story of determination, ingenuity and hope during a pandemic that just happens to feature the ever-popular zombies."
The book is available for purchase at local and online retailers, and copies are available to check out at the Victoria College/UHV Library and the Victoria Public Library. All UHV freshmen will receive a copy of the new book.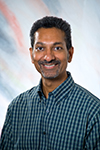 Uppinder Mehan
Uppinder Mehan, assistant professor of English in the UHV School of Arts & Sciences, said the book covers aspects of science, sociology, psychology, weather and more.
"Don't let the cover and 'zombie-ness' of the book fool you," Mehan said. "The novel is a cosmopolitan exploration of East-West and North-South geopolitical relations."
"World War Z" has sold more than 1 million copies worldwide. The book features a multitude of interesting voices captured in an interview-style format with each person giving a first-person account of having lived through the Zombie War.
Among the interviewees were soldiers who fought losing battles when a lack of information, outdated tactics and illogical reactions contributed to humanity almost losing the war.
The 2010-2011 Community of Readers book was Erik Larson's "Isaac's Storm," a book about the 1900 Galveston Hurricane. Featured guest speakers included representatives from the Galveston County Historical Museum, former newspaper columnists Henry and Linda Wolff, Mid-Coast Master Naturalist Ray Kirkwood and Jeb Lacey from the Victoria Office of Emergency Management.
For more information about the Community of Readers, visit www.uhv.edu/community-of-readers or email readers@uhv.edu. Other committee members are UHV faculty and staff members Charles Alcorn III, Dmitri Sobolev, Alireza Tavakkoli, Uppinder Mehan, Esperanza Camargo and Casey Akins.
The University of Houston-Victoria, located in the heart of the Coastal Bend region since 1973 in Victoria, Texas, offers courses leading to more than 80 academic programs in the schools of Arts & Sciences; Business Administration; and Education, Health Professions & Human Development. UHV provides face-to-face classes at its Victoria campus, as well as an instructional site in Katy, Texas, and online classes that students can take from anywhere. UHV supports the American Association of State Colleges and Universities Opportunities for All initiative to increase awareness about state colleges and universities and the important role they have in providing a high-quality and accessible education to an increasingly diverse student population, as well as contributing to regional and state economic development.