Close
UHV awards first-ever internal research grants to faculty
Four University of Houston-Victoria faculty members recently received the university's first internal research grants to contribute to ongoing professional development, and advance the knowledge and visibility of the university.
The faculty members, award amounts and titles of their research projects are:
Li Chao, professor of computer science and mathematics, $6,000, "Cloud Computing"
Richard Gunasekera, professor of biology, $6,000, "Cancer Prevention through Public and Professional Education and Training Pilot Project Supported by Evidence-based Basic Research"
Amy Barnhill, assistant professor of literacy, $5,873, "Using Hand-held Audio Devices to Build Second-Grade Reader Fluency"
Siva Somasundaram, associate professor of biology, $6,000, "Assessing Colon Permeability Noninvasively"
"Internal research grant awards have limited funding and were very competitive," said Suzanne LaBrecque, UHV provost and vice president for academic affairs. "The main objective of the program is to support pilot projects that will lead to developing and submitting proposals to external agencies for more significant grant funding. We were very impressed by our faculty projects."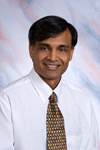 Siva Somasundaram
After a decade of cancer prevention research, Somasundaram's current quest is to work with the rural Texas population to screen for colon cancer at its earliest stages by using an innovative, noninvasive technique.
"We are able to tell through a simple urine sample the permeability level of a person's small and large intestine, which can influence his or her chances of developing colon cancer," Somasundaram said. "When we find patients with a hyper permeability, then we can follow up with a colonoscopy. But this will eliminate the invasive colonoscopy step for patients who have no need for one."
Somasundaram will use the findings of this research to help apply for a large grant from the National Institutes of Health.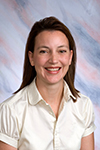 Amy Barnhill
Barnhill has teamed with Rachel Martinez, a UHV assistant professor of education, to identify the effectiveness of MP3 players and other audio devices on boosting fluency in beginning readers. The study's outcome will add relevant information to the fields of literacy, technology in education and special education.
"Dr. Martinez and I are thrilled about this internal grant," Barnhill said. "We conducted a pilot study regarding MP3 players and reading fluency, and found many more questions than answers.  We look forward to using this grant to pursue those unanswered questions."
Barnhill and Martinez will use preliminary research findings to pursue funding from the U.S. Department of Education Office of Special Education.

Li Chao
Chao seeks to broaden UHV's computer science program by developing a private data center connected to the public cloud computing provider Amazon.com. The private data center will allow UHV to teach lab-intensive courses online in a cloud environment without the need for student computers networked to central servers.
"Cloud" refers to the delivery of information technology infrastructure via the Internet, instead of through local networks. In higher education, it would allow a student to access a computer lab without being on campus and could lead to significant savings in software costs since multiuse licenses would no longer be needed. Chao plans to apply for a National Science Foundation grant to continue his work.
Gunasekera continues to conduct cancer prevention research by investigating the effects of photochemical bioactive molecules on hormone sensitive prostate and breast cancer cell lines. His research has focused on cancer prevention studies at genetic and cellular levels, including nutrigenomics and safe uses of preventative food and exotic products in cancer prevention.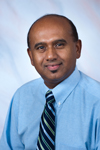 Richard Gunasekera
Gunasekera also has spearheaded a series of talks aimed at pushing for health-behavior changes, and he said the internal grant money would be used to continue bringing speakers for that initiative. In the fall, he plans to host a diet and cancer prevention conference with national and international speakers.
Through his research and related published findings, he plans to submit applications to the National Cancer Institute Division of Cancer Prevention and the Cancer Prevention and Research Institute of Texas.
LaBrecque said the faculty members are expected to submit expanded grant proposals to an external funding agency within six months of completion of the pilot projects. Faculty members who have won awards are ineligible for the next round of UHV internal funding.
The University of Houston-Victoria, located in the heart of the Coastal Bend region since 1973 in Victoria, Texas, offers courses leading to more than 80 academic programs in the schools of Arts & Sciences; Business Administration; and Education, Health Professions & Human Development. UHV provides face-to-face classes at its Victoria campus, as well as an instructional site in Katy, Texas, and online classes that students can take from anywhere. UHV supports the American Association of State Colleges and Universities Opportunities for All initiative to increase awareness about state colleges and universities and the important role they have in providing a high-quality and accessible education to an increasingly diverse student population, as well as contributing to regional and state economic development.