Close
UHV genetics professor to lead 'CSI'-style DNA, forensics camp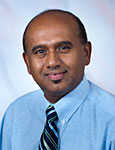 Richard Gunasekera
SUGAR LAND – Students fascinated by the science that unlocks crime secrets in the "CSI" TV drama series are invited to jump into a laboratory to learn more about the popular field at an upcoming DNA, Genetics & Forensics Camp.
Students ages 10 to 19 are invited to the camp from 1-5 p.m. June 20 to 23 at the UH System at Sugar Land, where UHV offers many of the degree programs. Classes will be held in the biology labs at Brazos Hall, 14004 University Blvd.
"It is true that the CSI series of TV shows has had a major influence on how people think about forensic science," said Richard Gunasekera, UHV director of graduate biology studies and camp director. "This camp will help students realize what is real and what is not from those fictional shows, while they still have fun and try to solve a mystery using scientific analysis."
Students will learn how to gather evidence, use lab equipment, analyze DNA and other skills. This is the first time the camp will be in Sugar Land after the last three were in Victoria. At the end of the camp, students will earn a certificate of completion.
"Students will learn quite a bit, starting with DNA and genetics, the basic groundwork for all of the life sciences," said Gunasekera, who has worked as a forensics expert in court cases. "One thing we will do is extract DNA material from hair samples."
The biology professor said students who study DNA and forensics can enter a variety of industries including medicine, nursing, genetic and biomedical engineering, research science, and lab analysis in forensics, microbiology, environmental and other health-related fields.
The camp fee, which includes a T-shirt, is $195. Registration deadline is Thursday. Applications and required medical release forms may be downloaded at www.uhvconnect.org. For registration and payment by credit card, call 361-570-4361 or 866-800-8762.
Nancy Penry, UHV training and development coordinator, will handle registration and help organize the camp. UHV will host a Plant Biotechnology Camp in Victoria and Sugar Land later this summer.
"Dr. Gunasekera does a great job with the students, and they really like the camp," Penry said. "This is a wonderful opportunity for students to study under a truly motivating university professor."
For more information about the camp, contact Gunasekera at 281-275-8826 or gunasekerar@uhv.edu.
The University of Houston-Victoria, located in the heart of the Coastal Bend region since 1973 in Victoria, Texas, offers courses leading to more than 80 academic programs in the schools of Arts & Sciences; Business Administration; and Education, Health Professions & Human Development. UHV provides face-to-face classes at its Victoria campus, as well as an instructional site in Katy, Texas, and online classes that students can take from anywhere. UHV supports the American Association of State Colleges and Universities Opportunities for All initiative to increase awareness about state colleges and universities and the important role they have in providing a high-quality and accessible education to an increasingly diverse student population, as well as contributing to regional and state economic development.