Close
UHV plant biotechnology camps planned for Victoria, Sugar Land
Editor's Note: The Plant Biotechnology Camps scheduled at the UH System at Sugar Land and the University of Houston-Victoria have been canceled due to a lack of participants.
Upcoming camps in Victoria and Sugar Land will let youth ages 12 to 19 explore the world of plant biotechnology and learn from a university professor.
Siva Somasundaram, director of undergraduate biology studies at the University of Houston-Victoria, will lead two sessions of a five-day Plant Biotechnology Camp in July. Both sessions will feature lots of hands-on activities and problem-solving using plant genome and DNA technology.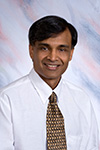 Siva Somasundaram
"Students planning to go into any type of biological or medical field will benefit greatly from this camp," Somasundaram said. "We will examine the building blocks of life and learn the basics of how the manipulation of them is being applied in the medical, biological and agricultural fields."
Students will detect microbes on surfaces, in air and water; sterilize plant materials and learn about plant genomes; clone their favorite type of plant; isolate and characterize plant DNA; and identify genetically modified plants.
Somasundaram will lead the camp from 9 a.m. to noon July 7, 8 and July 11-13 at the University of Houston System at Sugar Land. The two-day break is to give plant seed time to grow. Classes will take place in the biology laboratory at Brazos Hall, 14004 University Blvd.
Dates for the Victoria camp are from 9 a.m. to noon July 21, 22 and 25-27. Classes will be in the biology lab at the UHV University Center, 3007 N. Ben Wilson St.
Somasundaram has more than three decades of research in inflammation and cancer prevention, and works with populations in rural Texas to help implement the use of easy cancer screening techniques. He is editing a book on "Natural Products' Interactions on Genome" for CRC Press. It will be available in 2013.
He said students who will benefit from the camp may be interested in the fields of plant tissue culture, agriculture, gardening, floral work, nutrition, research in plant molecular biology, microbiology and environmental biology.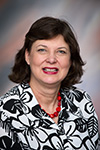 Nancy Penry
The fee for either camp is $195, which includes a specially designed T-shirt and a certificate upon completion. To register, call 361-570-4361 or toll free at 866-800-8762. Required applications and medical release forms are available at www.uhvconnect.org. Enrollment is limited. The registration deadline is June 23 for the Sugar Land camp and July 7 for the Victoria camp.
Nancy Penry, UHV training and development coordinator, will assist with registration and help organize the camp. The university also is hosting a DNA, Genetics & Forensics Camp in Sugar Land later this month.
"Dr. Somasundaram has won many awards at the university level including the 2011 Research Excellence Award," Penry said. "This is a great opportunity for students interested in biology to learn from a top university professor."
For more information about the camps, contact Somasundaram at 281-275-8808 or somasundarams@uhv.edu.
The University of Houston-Victoria, located in the heart of the Coastal Bend region since 1973 in Victoria, Texas, offers courses leading to more than 80 academic programs in the schools of Arts & Sciences; Business Administration; and Education, Health Professions & Human Development. UHV provides face-to-face classes at its Victoria campus, as well as an instructional site in Katy, Texas, and online classes that students can take from anywhere. UHV supports the American Association of State Colleges and Universities Opportunities for All initiative to increase awareness about state colleges and universities and the important role they have in providing a high-quality and accessible education to an increasingly diverse student population, as well as contributing to regional and state economic development.