Close
UHV master's student does advanced biology research in Hawaii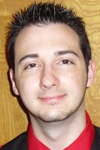 Matthew Boyett
For many people, Hawaii conjures up images of lazy days on the beach and dips in the ocean. But for University of Houston-Victoria student Matthew Boyett, the Aloha State brings about more scientific thoughts.
Boyett, 23, teamed up with Dmitri Sobolev, an assistant professor with the university, in search of evidence of Archaea, a type of microbe, in algae mats just off Hawaii.
"Twenty years ago, people thought they could only live and grow in extreme conditions, places that were unusually salty or hot," he said. "But it turns out they're found in all of these other places. We'd just been referring to them as 'bacteria' instead of what they really were."
The joint project began about 10 months ago when Boyett approached Sobolev looking for a bit of hands-on experience.
"He offered to let me work with him, and I leaped at the opportunity," he said. "I wanted to really get involved in some lab work, and it's been a great experience."
The research duo recently traveled to New Orleans to present its findings at the American Society for Microbiology General Conference. There, they met with groups from around the world and received feedback.
The next step is to hopefully get their work published.
Boyett graduated Calhoun High School in 2006 and went on to Victoria College, where he earned an associate degree in science. He obtained a bachelor's degree in biology from UHV and now takes graduate courses as a nondegree-seeking student. His goal is to eventually earn a doctorate in genetics.
Science has always interested Boyett, a Port Lavaca native, but it was a high school trip that really sealed the deal for him. When his class attended a genetics conference at Victoria College, the wheels started turning.
"I realized I was really interested in the topic," he said. "If I hadn't attended that conference, I might never have studied biology. I might not be doing what I am now."
Boyett keeps himself busy throughout the day working at the university's Information Technology Help Desk and also as a biology lab teaching assistant, in addition to his research and studies. Although he worked as an academic tutor during the fall semester, he eventually had to give that up.
"I was juggling too much at the time and just had to cut something out," he said.
During what little free time he has, he enjoys meeting up with friends over coffee.
All in all, Boyett has enjoyed his time at UHV and looks forward to continuing his studies.
"I'm ready to keep going," he said. "I'm very happy. I love what I do."
The University of Houston-Victoria, located in the heart of the Coastal Bend region since 1973 in Victoria, Texas, offers courses leading to more than 80 academic programs in the schools of Arts & Sciences; Business Administration; and Education, Health Professions & Human Development. UHV provides face-to-face classes at its Victoria campus, as well as an instructional site in Katy, Texas, and online classes that students can take from anywhere. UHV supports the American Association of State Colleges and Universities Opportunities for All initiative to increase awareness about state colleges and universities and the important role they have in providing a high-quality and accessible education to an increasingly diverse student population, as well as contributing to regional and state economic development.