Close
Graduate student gets by with a little help from her friends, family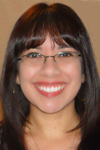 Danielle Lopez
Some plans take extensive strategy, while others fall into place on their own. For Danielle Lopez, a University of Houston-Victoria graduate student, it was a mixture of both, along with a few "small miracles," that led to her current path.
The Pharr native graduated from the University of Texas-Pan American in August 2010 and, as soon as the graduation lunch ended, loaded up her friend's rental car to make her way to Victoria. Her next round of courses was set to begin just two days later.
"I packed up whatever clothes I found, and they drove me up," she said. "I knew it was what I wanted to do but, at that point, I didn't even have my apartment key. I just knew it would work out somehow."
She was right. When a new classmate overheard her talking about her apartment dilemma, she offered her a temporary home.
"That was the first of my 'little miracles,'" Lopez said. "I believe in signs, and I believe it was God saying, 'I know you can do a lot more with your life. Here's the help to go do it.'"
The 27-year-old began courses with UHV's Master of Science in publishing program, and so far, it's been a great fit. Not only are the classes small, but she gets real-world experience editing academic journals, books for authors and other published material.
"I found myself doing things this year I never thought I could do," she said. "This year has been a growing experience."
She also became involved with the university's Mexican American Student Organization and made connections that allowed her to get a writing position with a local publication geared toward Hispanics.
"I love talking to people and getting them to tell their stories," she said. "Sometimes, when you are asking about people's lives, they just light up. It's good to make people realize they're something special."
When she isn't writing or editing, she does volunteer work and immerses herself in different art forms. She sings and plays the violin herself and works with the Victoria Fine Arts Committee. Whenever possible, she supports her friends' artistic endeavors.
"I love everything art," the bubbly Lopez said with a smile. "I chase everything in that realm."
Lopez is glad she moved to Victoria, and she thinks it was the right decision for her. She plans to continue down her educational path and help others along the way as she can.
After all, it was support from family and friends that helped her get where she is.
"It's really incredible what people can do with that little push, that helping hand," she said. "There's a saying in Spanish, 'con mi gente.' It means 'with my people.' You can do a lot when you have support."
The University of Houston-Victoria, located in the heart of the Coastal Bend region since 1973 in Victoria, Texas, offers courses leading to more than 80 academic programs in the schools of Arts & Sciences; Business Administration; and Education, Health Professions & Human Development. UHV provides face-to-face classes at its Victoria campus, as well as an instructional site in Katy, Texas, and online classes that students can take from anywhere. UHV supports the American Association of State Colleges and Universities Opportunities for All initiative to increase awareness about state colleges and universities and the important role they have in providing a high-quality and accessible education to an increasingly diverse student population, as well as contributing to regional and state economic development.