Close
UHV student leader experiences Chinese medical culture on summer trip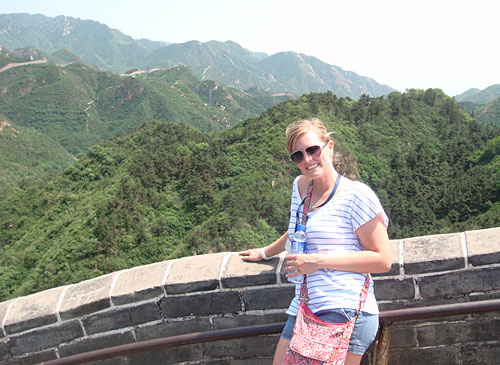 University of Houston-Victoria senior student leader Emily Bergstrom poses on the Great Wall of China during her recent trip with other honors students to study Eastern medical practices.
Biology major. All-American softball pitcher. Student Senate president. Emily Bergstrom, a University of Houston-Victoria senior, can now add "world traveler" to her already impressive resume.
Bergstrom recently returned from 12 days in China where the El Campo native visited three cities and compared Eastern and Western medicine techniques.
"It was a great trip and very eye-opening," said Bergstrom, who plans a career as an emergency room physician or an obstetrician-gynecologist. "There is such a difference in cultures, and I learned a lot about what we think is important versus what medical professionals in China think is important."
Bergstrom traveled with 75 members from Phi Theta Kappa honor society as part of the International Scholar Laureate Program. Her delegation was comprised of mostly Americans, including nine fellow Texans, as well as Canadians, Australians and students from other parts of the world.
"I didn't know anyone when we left, but I've since made a lot of new friends," she said.
Many of the visits to hospitals and pharmacies contrasted Western medicine's methods with traditional Chinese medicine, which includes more of a reliance on herbs and centuries-old techniques such as acupuncture.
"You could see Western medicine techniques coming into play, especially in the urbanized areas," she said. "The rural facilities were less advanced. Their MRI machines are like the first-generation machines used in the U.S."
Bergstrom said some rural areas still use acupuncture anesthesia techniques before and after surgery.
"They say it's effective," she said. "They told us patients have fewer reactions than they do to general anesthesia."
The group also took in some tourist sites at their three main stops.
The scholars toured the capital city of Beijing, where they saw Tiananmen Square and the Forbidden City, which houses the palace used during the Ming Dynasty, and the Great Wall. An 11-hour train ride took them to Xi'an, one of the oldest cities in China, where they saw the famous Terra Cotta Army and the Giant Wild Goose Pagoda.
The group then flew to Shanghai, the most populous city in the country of more than 1 billion people. They also took time to see how medical facilities in rural areas operated.
"The cities were amazing, but coming from a small town, the rural areas interested me most," she said. "The adaptation of Western techniques was greater in urban areas, but it is also generational. A lot of the younger doctors wanted to adapt to our styles, but there is still a huge demand for traditional medicine from the older Chinese population."
Bergstrom said Chinese medical school entrances rely on one post-high school exam. Based on their scores, students are either sent to elite schools, average universities, or schools that are not as stringent with graduates typically destined for rural or small hospitals.
The Jaguar leader said she wants to continue to travel and see more of the world.
"I'd like to do a medical mission trip next summer," she said. "Then I want to go to South Africa. I have always been drawn to that place, and now I have some friends there, so I hope to go there in the next couple of years."
When classes begin on Aug. 22, Bergstrom will find herself busy with classes and studying, the UHV Student Senate and fall softball workouts. But she said she thrives on the frenetic pace.
"As a college student, you definitely have to learn to multitask and make the best of every situation," she said. "With UHV continuing to grow, I'm looking forward to a great year with all the Senate members."
Siva Somasundaram, director of the UHV undergraduate biology program, said Bergstrom is a student who takes full advantage of opportunities and is a good influence on other students.
"She is one of the hardworking and motivated students in the biology program, and a wonderful student ambassador for the university," Somasundaram said. "I am sure she will achieve a bright future through the leadership skills she gains here."
The University of Houston-Victoria, located in the heart of the Coastal Bend region since 1973 in Victoria, Texas, offers courses leading to more than 80 academic programs in the schools of Arts & Sciences; Business Administration; and Education, Health Professions & Human Development. UHV provides face-to-face classes at its Victoria campus, as well as an instructional site in Katy, Texas, and online classes that students can take from anywhere. UHV supports the American Association of State Colleges and Universities Opportunities for All initiative to increase awareness about state colleges and universities and the important role they have in providing a high-quality and accessible education to an increasingly diverse student population, as well as contributing to regional and state economic development.