Close
On board since beginning, UHV Director of Business Services retires
As the clock wound down on the full-time career of Greg Fanelli, the University of Houston-Victoria director of business services reflected on work that has nearly spanned the institution's existence.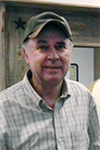 Greg Fanelli
"I came to school in the fall of 1973 after UHV had opened that summer," he said. "The university had just a handful of faculty and staff in space leased from Victoria College. But it's been going full bore since the beginning, and adding freshmen and sophomores is a whole new, exciting phase."
Fanelli retired Friday after more than 37 years with UHV. He worked under all seven UHV presidents and leaves just before the eighth, Philip Castille, takes office in mid-August. He is retiring from full-time work but will continue to assist Wayne Beran, UHV vice president for administration and finance, for a few hours each week.
"I've worked with Greg for 21 years, and he has been a real leader for the institution," Beran said. "He led UHV in all facets of safety, risk management and compliance work required by the state and federal government, among other things. It has been a big responsibility, but he has handled it well."
Fanelli will get to spend more time with wife Pam, two sons and his grandchild, Harly. Pam retired from the Victoria Independent School District, and he planned to retire three months later. But that was 10 years ago.
Since that time, Fanelli has given his letter of resignation to Beran more than a few times.
"Wayne would always leave my resignation on his desk a few days to allow me time to change my mind, and I did that often," he said. "The last time I was right at the edge of retirement was in the fall 2008, the week the stock market began to crash, and I was more than a little worried about whether my retirement accounts would survive. The Human Resources Department had already processed my retirement, but they were very kind to me and helped me unretire."
He said this time he turned in his letter of resignation and almost took it back, saying that financial uncertainties and his age, 63, made permanent retirement a tough decision.
Fanelli, a Yorktown High School graduate, received an associate degree from Victoria College and was serving a stint in the U.S. Coast Guard when he learned about what would become his longtime place of employment.
"A family friend sent me a newspaper article about the possibility of a new university opening in Victoria," he said. "My tour of duty was finishing soon, so I started school and got my first job as a student worker in the School of Education, working with professors William Nesbitt, Diane Prince, Paul Carlson and Robert Zawadski."
His career crossroads came early when he was offered full-time jobs at both DuPont, as an operator, and at UHV, by the Chancellor's Administrative Assistant Madeline Jones.
"Getting a job at DuPont at the time was a good thing, since the company was pretty stable," Fanelli said. "The pay at the university was less, but my father said he thought the school job could be a good thing that would lead to better positions, so I began working full time at UHV."
When the school opened its first business office, Fanelli was transferred to work under Joseph Oliver, a faculty member who also served as finance director.
"That poor guy was patient with me," he said. "I just was not a numbers person. But from that point on, I stayed in the Finance and Administration area."
Fanelli received his Bachelor of Science in Business Administration in 1977 from UH since UHV was still a teaching center and could not yet confer its own degrees.
He has served as a clerical assistant, staff assistant, travel coordinator, purchasing agent/staff accountant, business manager, director of operations and, finally, director of business services.
He remembers writing correspondence on typewriters, the first mimeograph machines, then the first Xerox copier that served the entire campus. Around 1982, he got his first computer, an IBM with 10 megabytes of memory. Since then, he has watched as technology and the Internet have completely changed the work environment.
Fanelli said he enjoyed working under every UHV president, all of whom tried to move the university forward. He found people at the UH campus and UH System very helpful.
Interim President Smith said Fanelli has served the university for the past 37 years with distinction.
"Greg has done so much for the university, but he is such a humble person he would never brag about all he has helped the school accomplish," he said. "He has been an important staff member who always helped us keep on track to reach growth milestones through the years."
Even though he is retiring from full-time work, Fanelli believes the university's best days are ahead.
"There hasn't been any time where UHV has not been moving forward. There has always been one project or another and new goals to meet and old records to break," he said.  "The university's leaders have been ambitious and optimistic from the beginning, and because of that, the best is yet to come for UHV and this area."
The University of Houston-Victoria, located in the heart of the Coastal Bend region since 1973 in Victoria, Texas, offers courses leading to more than 80 academic programs in the schools of Arts & Sciences; Business Administration; and Education, Health Professions & Human Development. UHV provides face-to-face classes at its Victoria campus, as well as an instructional site in Katy, Texas, and online classes that students can take from anywhere. UHV supports the American Association of State Colleges and Universities Opportunities for All initiative to increase awareness about state colleges and universities and the important role they have in providing a high-quality and accessible education to an increasingly diverse student population, as well as contributing to regional and state economic development.