Close
Love of learning, volunteerism drive UHV student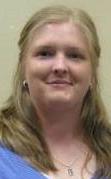 Korie Krohn
University of Houston-Victoria student Korie Krohn can talk about virtually anything. From medicine, to animal behavior, to law enforcement and more, she knows a little bit about a lot of topics.
"I just like to learn," she said. "I've always been that way. I love soaking up information."
That thirst for knowledge was the driving force that led the Victoria native down a path of volunteerism. Her first community activity, the Victoria Dog Obedience Club, came about by chance.
Krohn developed a love for Doberman pinschers and hoped to become a better dog handler. She signed up for obedience classes and, after completing the course, stayed on to help other students.
She then joined the Friends of the Victoria Public Library, which came about in much the same way. An avid reader, Krohn attended the organization's book sales, talking to board members and helping out where possible. She later settled into a position on the group's board.
The Victoria Police Department's Civilian Police Academy and, later, the Victoria Fire Department's Civilian Fire Academy also came into play.
"These were all things I wanted to learn more about, so I dove in," she said. "Each of the groups is doing really great things. I want to be involved."
Her schedule tends to keep her on the go, but Krohn doesn't mind. Her husband, Joey, works and also goes to school, and the couple does what it can to show Joey's 11-year-old daughter that keeping busy is a good thing.
"We understand we work hard so that we can have a better life for ourselves and our family," she said. "Life doesn't end at 5 p.m. Do something productive, even if it's something as simple as reading a book."
Looking ahead, Krohn said she plans to stay active in the community and continue working toward her bachelor's degree in biology. She hopes to eventually get a job in forensics or in a medical lab.
"It's my passion," she said of her studies. "The workings of the human body are very interesting. It's like a never-ending puzzle."
But passion or not, she isn't going to rush things. She keeps to online and night courses, and avoids stretching herself too thin when it comes to course loads.
"I take a course or two, and I'll get there when I get there," she said. "I know that as long as I keep learning, I'll be doing just fine."
The UHV Outstanding Student is an online feature highlighting the exceptional students who attend the University of Houston-Victoria. To nominate a student, contact Paula Cobler, UHV interim director of marketing, or call 361-570-4350.
The University of Houston-Victoria, located in the heart of the Coastal Bend region since 1973 in Victoria, Texas, offers courses leading to more than 80 academic programs in the schools of Arts & Sciences; Business Administration; and Education, Health Professions & Human Development. UHV provides face-to-face classes at its Victoria campus, as well as an instructional site in Katy, Texas, and online classes that students can take from anywhere. UHV supports the American Association of State Colleges and Universities Opportunities for All initiative to increase awareness about state colleges and universities and the important role they have in providing a high-quality and accessible education to an increasingly diverse student population, as well as contributing to regional and state economic development.