Close
Jaguar's love of outdoors leads to ranching, golf pursuits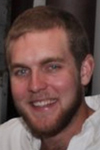 Leighton Smith
University of Houston-Victoria sophomore Leighton Smith was never one to spend his days indoors, twiddling his thumbs. He prefers to be in the great outdoors.
"I've always liked hunting and fishing, things like that," he said. "It's how I've always been."
The Edna native's love of nature began early on.
Smith's family owns six pastures, so he often found himself braving the elements to work with the animals and assist however else he could.
The 20-year-old also takes in a round of golf whenever possible.
"I started playing when I was about 3 or 4 and began competitive golf when I was about 15," he said. "I really love it."
In fact, it was the sport that led him to UHV.
Smith graduated from Edna High School in 2009 and began classes at a community college. He moved to UHV when a friend told him the Jaguar golf team was recruiting.
"I decided to give it a shot," he said. "And I really like it. It's a good school."
Smith said he enjoyed his UHV courses last school year and learned early that fostering a good relationship with professors can make a difference. He advised other students to do the same.
"Be friendly and pay attention to what they have to say," he said. "They'll see you care, and they're more likely to help you out if you need it."
Change is in the future for the lifelong Crossroads resident.
Smith soon will load up his belongings and head to Kingsville, where he will continue toward his agricultural path at a large cattle ranch.
"I'll be doing a lot of what I do now with the family," he said. "Working with cattle, things like that, it's what I know. It's what I'm good at."
He plans to maintain long-distance Jaguar ties with online courses and also continue to hone his golfing abilities.
"I'd really like to go pro," Smith said. "That's my dream. I guess we'll see what happens."
The UHV Outstanding Student is an online feature highlighting the exceptional students who attend the University of Houston-Victoria. To nominate a student, contact Paula Cobler, UHV interim director of marketing, or call 361-570-4350.
The University of Houston-Victoria, located in the heart of the Coastal Bend region since 1973 in Victoria, Texas, offers courses leading to more than 80 academic programs in the schools of Arts & Sciences; Business Administration; and Education, Health Professions & Human Development. UHV provides face-to-face classes at its Victoria campus, as well as an instructional site in Katy, Texas, and online classes that students can take from anywhere. UHV supports the American Association of State Colleges and Universities Opportunities for All initiative to increase awareness about state colleges and universities and the important role they have in providing a high-quality and accessible education to an increasingly diverse student population, as well as contributing to regional and state economic development.