Close
Returning UHV student likes activist causes and unique pet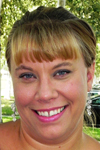 Kathleen Carr
Pets are a natural part of life for many college students. But when you aren't the average woman, it stands to reason you won't own an average pet.
Such is the case for University of Houston-Victoria senior Kathleen Carr, who doesn't come home to a dog, cat or even a hamster. Instead, it's her lab rat, Sniffy.
"He's the perfect pet for a college student living in an efficiency apartment," she said with a laugh. "He doesn't bark. He isn't noisy. It's like having a dog or cat, but smaller."
It isn't just her animal of choice that separates the Cuero native from others. At 33, she's older than some of her classmates.
Carr took college courses shortly after graduating high school but became sidetracked and put her education on hold. It was the realization that her career options were limited that nudged her back to the academic world.
"I didn't want to just scrape by," she said. "I didn't want to work 12-hour shifts on my feet for the rest of my life. I wanted something better."
The journey has taken time, said Carr, a psychology major minoring in biology. She took two or three courses at a time, supporting herself with tutoring jobs at both UHV and Victoria College.
Classes and work take up the majority of her days, but the animal lover still finds time to relax by the pool, read and research the social, humanitarian and women's rights causes that interest her.
"I'm a little bit of a social activist," Carr said. "I'm an economic and social injustice fighter."
Looking to the future, Carr said she plans to graduate from UHV in December 2012 and work toward a master's degree. Although she hasn't decided on a career yet, she might consider drawing on her experience as a tutor and going into higher education.
"So many people made an impression on me during my journey," she said, crediting her mother, Ruth, with her academic success. "The most fulfilling thing I can think of is reinvesting my time and abilities to help someone reach their goals."
That's still down the road, however. In the meantime, she plans to continue studying, tutoring others and striving toward her goals.
"I've finally gotten to this point where I see a light at the end of the tunnel," she said. "It's been a long journey, but I think I can do it. I'm excited."
The UHV Outstanding Student is an online feature highlighting the exceptional students who attend the University of Houston-Victoria. To nominate a student, contact Paula Cobler, UHV interim director of marketing, or call 361-570-4350.
The University of Houston-Victoria, located in the heart of the Coastal Bend region since 1973 in Victoria, Texas, offers courses leading to more than 80 academic programs in the schools of Arts & Sciences; Business Administration; and Education, Health Professions & Human Development. UHV provides face-to-face classes at its Victoria campus, as well as an instructional site in Katy, Texas, and online classes that students can take from anywhere. UHV supports the American Association of State Colleges and Universities Opportunities for All initiative to increase awareness about state colleges and universities and the important role they have in providing a high-quality and accessible education to an increasingly diverse student population, as well as contributing to regional and state economic development.