Close
Criminal justice professor, former investigator leads UHV Faculty Senate
A criminal justice professor, former investigator and Army veteran is leading the University of Houston-Victoria Faculty Senate during the 2011-2012 school year.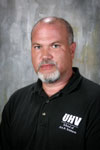 Keith Akins
Keith Akins, assistant professor of criminal justice, was elected to lead the Faculty Senate, which is a representative body of the entire faculty. Akins said he is excited about the opportunity.
"I am looking forward to being an advocate for the faculty," Akins said. "I also hope to increase faculty participation in university governance."
Akins served as a senator for the past two years, and he hoped to spend a year as Senate vice president under Ron Sardessai, the late School of Business Administration professor who passed away in April.
"I really looked forward to learning how to run the Senate under Dr. Sardessai's leadership," he said. "As a result of his passing, it has left me with very big shoes to fill. But all of the past presidents have been supportive and helpful in learning how to lead the Senate."
Akins served in the Army, then earned three academic degrees in Florida. Much of his graduate study work was based on the relationship between ideology and violence in the militia and white supremacy movements.
In 2000, he joined the Anti-Defamation League to work as an investigator. He provided expert witness testimony during hate-crime and terrorism trials, assisted with investigations and conducted law enforcement training.
He left the Anti-Defamation League in 2004 to become a faculty member at New Mexico State University. Akins joined UHV in 2008 and is the graduate coordinator for the Master of Arts in Interdisciplinary Studies homeland and international security concentration. He and wife Casey, an assessment coordinator in the UHV School of Arts & Sciences, have five children.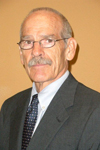 Don Smith
Don Smith, interim provost and vice president for academic affairs, said Akins will provide strong leadership as the university continues its rapid growth phase with the addition of more underclassmen.
"We still are in a time of growth and change at UHV, and the faculty's voice should be considered at every turn," Smith said. "I believe Dr. Akins will do an admirable job leading the Senate as the university continues to meet the demand for higher education in the Crossroads region and beyond."
Faculty member Jane Fry, the 2010-2011 Faculty Senate president, will continue to serve as past president of the Senate. Other members of the Senate executive committee are Denise Neill, vice president; and Ron Salazar, School of Business Administration representative. A board secretary will be named at a later date.
Senators and their representative schools are as follows:
Arts & Sciences – Andrew Baerg, Rob Hawkins and Mark Ward
Business Administration – Joseph Ben-Ur, Jonathan Du, Uche Nwabueze
Education & Human Development – Amy Barnhill, Barba Patton, Paul Carlson
Nursing – Jere Hammer, Kay Reeve, Shainy Varghese
The University of Houston-Victoria, located in the heart of the Coastal Bend region since 1973 in Victoria, Texas, offers courses leading to more than 80 academic programs in the schools of Arts & Sciences; Business Administration; and Education, Health Professions & Human Development. UHV provides face-to-face classes at its Victoria campus, as well as an instructional site in Katy, Texas, and online classes that students can take from anywhere. UHV supports the American Association of State Colleges and Universities Opportunities for All initiative to increase awareness about state colleges and universities and the important role they have in providing a high-quality and accessible education to an increasingly diverse student population, as well as contributing to regional and state economic development.