Close
UHV/ABR Fall Reading Series author explores language, life
In the land of fiction, author Christina Milletti has a reputation for being hip, contemporary and a risk-taker. But as in her stories, her life has taken its own unforeseen twists.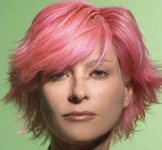 Christina Milletti
The writer and University of Buffalo English professor will be the second speaker in the University of Houston-Victoria/American Book Review Fall Reading Series. Milletti will begin at noon Sept. 22 in the Alcorn Auditorium of UHV University West, 3007 N. Ben Wilson St. The event is free, and light refreshments will be served.
"For me, it's all about the storytelling, but I want to do it in a language that challenges the story that's being told," Milletti said.
Her 2006 short story collection, "The Religious and Other Fictions," garnered critical praise and cemented her as an award-winning short story writer.
The author said it has taken her a bit of time to finish her most recent novel. Over the past five years, she had to learn to juggle writing fiction with raising two small children. What she discovered is that being a mother can be as unpredictable as being a writer.
"When writing a book, you invent yourself as an author every time you sit down at your desk," she said. "You question everything, wondering if you're going in the right direction with the story. As a mother, you constantly ask yourself similar questions, if you're doing the right thing for your children. Both jobs have their joys, but there is no learning curve. Every day is exquisitely its own with a book and two toddlers running the house."
Her novel is in its revision stages, and will soon be shopped to publishers. "Choke Box" is a fictional "counter memoir" written by a woman whose husband, she claims, disappeared while writing a book about their family. The main character writes in secret while committed involuntarily to an asylum, and by the end, the reader is left wondering if she is guilty of her husband's murder, or is the victim of an incalculable crime.
"She is very persuasive," Milletti mused.
"The book looks at what's real and what's imagined through this woman's eyes," she said. "Her claim that he controls the family through his memoir seems to be a departure from what the rest of us might call sanity. Yet there's plenty of evidence that she's been victimized in countless ways, not least of all by the words of his book. In 'Choke Box,' language can be deadly."
The title of her novel "Choke Box" arises from what she calls an anomaly of the human body, that humans are virtually the only species on the planet that can choke to death on their food.
"It's the larynx, the voice box, that's the trouble," she said. "Our capacity for speech, for language, can at any time do us in."
Milletti said her influences include Vladimir Nabokov, whose lofty, lyrical prose grabbed her attention at an early age. She also repeatedly read Djuna Barnes, a fixture of bohemian Paris in the 1920s and 1930s, and Argentine writer and poet Jorge Luis Borges.
"A Borges story seem to be going forward until you realize that it's turning itself inside out," she said.
Though her upbringing by Italian immigrant parents might lend itself to colorful prose, she is more interested in writing that is inventive.
"Honestly, I am resistant to exploiting the personal in my writing because there's an entire imaginative universe out there to explore," she said. "Perhaps it doesn't help that I had lovely parents and was raised in a good home. As my mom says, I 'have no reason to be so ornery.'"
Though she has never been to Texas, Milletti will be on familiar ground at the Reading Series. She runs a similar forum for visiting authors at the University of Buffalo.
Milletti also is an associate editor for the American Book Review.
Jeffrey Di Leo, editor of the American Book Review and dean of the UHV School of Arts & Sciences, said Milletti is a rising star in contemporary fiction.
"Ms. Milletti brings elements familiar to all of us in her stories, but she provides wonderful, unconventional twists and turns to her stories that readers love," he said. "Students and the community members will find her charming, and we are fortunate to have a writer of her caliber visit us."
Other writers in the UHV/ABR Fall Reading Series are:
Mike O'Brien, Oct. 13– A Memphis, Tenn., native who now lives in Austin, O'Brien worked as a photographer for newspapers and magazines, where he photographed for Life, The New York Times Sunday Magazine, National Geographic, Esquire, Fortune and others. His subjects have ranged from celebrities Willie Nelson and George Bush to unknowns like trick roper Kevin Fitzpatrick and Ran Horn, the "Van Gogh" of tiny Van Horn, Texas. His latest book is "Hard Ground," in which he contributed the photographs, and musician Tom Waits supplied the poetry.
E. Ethelbert Miller, Nov. 3– Miller, noted poet and literary activist, rescheduled after a family death forced postponement of his planned February visit. The busy activist is board chairman of the Institute for Policy Studies, a board member of The Writer's Center and editor of Poet Lore magazine. Since 1974, he has been director of the African American Resource Center at Howard University in Washington, D.C. His poetry and writings have reflected upon a variety of experiences, from civil rights to baseball.
John Tytell, Dec. 1– A celebrated scholar of the Beat authors of the 1940s through 1960s, Tytell will give expert insight into the most popular names of the genre, including Jack Kerouac, Ezra Pound, Allen Ginsberg, Henry Miller and William S. Burroughs. A Pulitzer Prize nominee, he teamed with his wife, a photographic chronicler of the Beat artists, to produce "Paradise Outlaws: Remembering the Beats." His book, "Naked Angel," is thought by many to be the seminal work on major and minor figures of the Beat Generation.
Authors who are part of the Fall Reading Series will attend roundtable discussions with UHV faculty and students, make classroom visits to area schools, give lectures open to the community, and go to receptions hosted by Friends of ABR patrons while they are in Victoria.
ABR is a nonprofit, internationally distributed literary journal that is published six times a year. It began in 1977, moved to UHV in 2007 and has a circulation of about 8,000. The journal specializes in reviews of works published by small presses.
For more information about the UHV/ABR Reading Series, call Uppinder Mehan, interim chair of the UHV School of Arts & Sciences humanities division, at 361-570-4178 or go to www.americanbookreview.org.
The University of Houston-Victoria, located in the heart of the Coastal Bend region since 1973 in Victoria, Texas, offers courses leading to more than 80 academic programs in the schools of Arts & Sciences; Business Administration; and Education, Health Professions & Human Development. UHV provides face-to-face classes at its Victoria campus, as well as an instructional site in Katy, Texas, and online classes that students can take from anywhere. UHV supports the American Association of State Colleges and Universities Opportunities for All initiative to increase awareness about state colleges and universities and the important role they have in providing a high-quality and accessible education to an increasingly diverse student population, as well as contributing to regional and state economic development.