Close
New faculty joins ranks at UHV School of Business Administration
University of Houston-Victoria's School of Business Administration recently welcomed eight new instructors to its ranks.
"We pride ourselves on the quality of our programs, and these new faculty members will enhance our capacity to offer excellent student instruction," said Farhang Niroomand, dean of the UHV School of Business Administration.
Enrollment growth in the School of Business Administration necessitated the additional hires. Preliminary figures show the school enrolled 1,890 students into classes this fall, a 10.5-percent increase from fall 2010.
"Students in the Coastal Bend and beyond recognize that the UHV School of Business Administration is competitive and rigorous, yet its classes are affordable and accessible and can be scheduled around a working person's job," UHV President Philip Castille said.
UHV is one of fewer than 5 percent of business schools in the world to be accredited by AACSB International – The Association to Advance Collegiate Schools of Business. It offers undergraduate and graduate degrees through face-to-face, online or hybrid program offerings. The school recently was recognized by GetEducated.com for its online Bachelor of Business Administration degrees being one of the most affordable in the nation.
New faculty members are: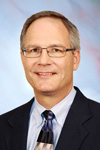 Jeff Blodgett
Jeff Blodgett, associate dean, marketing professor– Blodgett earned his doctorate in marketing from Indiana University in 1992 and has taught at the graduate and undergraduate levels at the University of Mississippi and North Carolina A&T State University. In courses such as marketing management and brand management, he makes extensive use of cases and business simulation. Blodgett has co-authored numerous papers about customer satisfaction, advertising, online auctions and other topics in many leading academic journals. He has worked closely with industry constituents and has experience with program development for accreditation standards. He and his wife, Aysen Bakir, a professor at Illinois State University, enjoy traveling around the globe.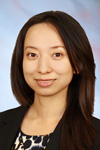 Xiaobo Dong
Xiaobo Dong, assistant professor of accounting– Dong received her doctorate in accounting from Arizona State University and has a master's degree in economics from the State University of New York in Albany. Her research focus is on financial intermediaries, especially financial statement analyst forecast, management forecast and equity valuation. Her teaching interests are in advanced and intermediate-level financial accounting and managerial accounting. She is affiliated with the American Accounting Association and the American Finance Association. She enjoys reading, watching movies and playing Chinese musical instruments.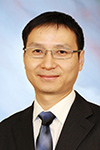 Shengsheng "Charlie" Huang
Shengsheng "Charlie" Huang, assistant professor of management– Huang received his doctorate from Rutgers University in international business and strategic management. He taught courses in business policy and strategy, and international business at Rutgers Business School in Newark and New Brunswick. Huang's current research interests include location strategy of multinational corporations, technological diffusion and knowledge transfer within a multinational network. He also is interested in Chinese-related phenomenon guanxi, or personalized networks of influence, and China's automobile industry. Prior to his graduate studies, he worked as a copywriter, planning director and consultant for firms in China and the U.S.
Rachana Kalelkar, assistant professor of accounting – Kalelkar is pursuing her doctorate in accounting from the University of Texas at San Antonio, where she also has taught classes in financial and managerial accounting. She earned her bachelor's and master's degrees in accounting from the University of Mumbai in India. Her research interests include financial reporting, executive compensation and corporate governance. She recently had an article published in the Journal of Accounting and Public Policy.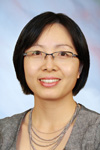 Yingxu Kuang
Yingxu Kuang, assistant professor of accounting– Kuang earned her Doctor of Business Administration in accounting from Louisiana Tech University and worked as an assistant professor of accounting at the College of Saint Rose in Albany, N.Y. She has taught courses in financial accounting, managerial accounting, not-for-profit accounting and auditing at Louisiana Tech and College of Saint Rose. She is a Certified Public Accountant in China and has worked as a financial manager for a Chinese securities firm for three years. Her research interests include tax policy, financial accounting theory and pedagogical research. She also has published several articles in academic journals. She is an active member of the American Accounting Association and the American Taxation Association. She also has served as college coordinator and volunteer tax preparer for the IRS volunteer income tax assistance program.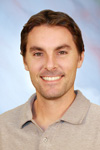 Derrick McIver
Derrick McIver, assistant professor of management– McIver earned his doctorate from the University of Texas at San Antonio and a Master of Business Administration from Texas A&M-Corpus Christi. His research in strategic management and value creation in organizations has been published in academic journals. His recent projects highlight influences that some knowledge management processes have on business performance.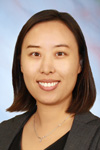 Yan Qin
Yan Qin, assistant professor of operations management– Qin received her Doctor of Business Administration in 2011 from the University of Florida, where she also taught courses as a doctoral student. While teaching in the Warrington College of Business Administration in 2011, she was voted Best Faculty of the Year in her department. Her interests include blood banking logistics, emergency department overcrowding and green supply chain. She has published research in a European academic journal and has served as a reviewer for other business journals.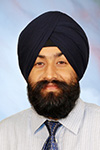 Barjinder Singh
Barjinder Singh, assistant professor of management– Singh earned his doctorate in organizations and strategic management from the Sheldon B. Lubar School of Business at the University of Wisconsin-Milwaukee, where he also worked as a faculty member. Singh's interests include organizational behavior, human resource management, international management and business ethics. He has presented research at national and international conferences and achieved high academic recognition by receiving the Society for Human Resource Management Foundation's Dissertation Award. His most recent work has been accepted by the Journal of Business Ethics.
The University of Houston-Victoria, located in the heart of the Coastal Bend region since 1973 in Victoria, Texas, offers courses leading to more than 80 academic programs in the schools of Arts & Sciences; Business Administration; and Education, Health Professions & Human Development. UHV provides face-to-face classes at its Victoria campus, as well as an instructional site in Katy, Texas, and online classes that students can take from anywhere. UHV supports the American Association of State Colleges and Universities Opportunities for All initiative to increase awareness about state colleges and universities and the important role they have in providing a high-quality and accessible education to an increasingly diverse student population, as well as contributing to regional and state economic development.