Close
Next UHV/ABR speaker captures character through his camera
If a picture is worth a thousand words, then photographer Michael O'Brien is the author of countless works of nonfiction.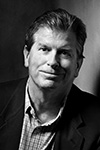 Michael O'Brien
O'Brien will be the first-ever photographer to speak in the University of Houston-Victoria/American Book Review Fall Reading Series. His talk will begin at noon Oct. 13 in the Alcorn Auditorium of UHV University West, 3007 N. Ben Wilson St. After the reading, O'Brien will sign copies of his latest book of photographs, "Hard Ground." Light refreshments will be served, and the free event is open to the public.
O'Brien's stunning portraits of subjects, ranging from the homeless to celebrities, as well as his other documentary photography, have graced the pages of LIFE Magazine, National Geographic, Texas Monthly and others. No matter the subject, he tries to capture something personal through his lens.
"I like taking pictures of anyone," he said. "Some are everyday, ordinary people, but I say they are extraordinary. I can find something interesting about everybody I meet."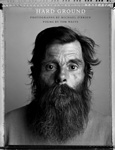 Michael O'Brien's new book of photography, "Hard Ground," features portraits of people served by Austin charity Mobile Loaves and Fishes. The book also contains the poetry of musician Tom Waits.
While some people initially feel uncomfortable in front of a camera lens, O'Brien's easy manner and professionalism soon put his subjects at ease.
"I have always been anxious about photographing celebrities, and a lot of subjects are anxious, too," he said. "But I think they see how connected I am and that I care about what I'm doing. That, in turn, gets them to be more vested in what I am doing."
His photographs, ranging from Willie Nelson to George Bush, are in the permanent collections of the Smithsonian's National Portrait Gallery in Washington, D.C., the International Center of Photography in New York, the Houston Museum of Fine Arts and the Wittliff Collection of Mexican and Southwestern Photography at Texas State University-San Marcos.
O'Brien's start in photography came at the University of Tennessee, where he pursued a degree in philosophy. But during his studies, he also worked for the daily university newspaper taking photographs. It was there that he fell in love with the craft.
"I met a photographer, Jack Corn, who showed me his documentary work on the Appalachian coal mining community," he said. "I had an epiphany at that point and knew this was what I wanted to do."
O'Brien began building up his portfolio at the student newspaper, then was hired on at The Miami News, an afternoon newspaper in a city dominated by the much-larger morning paper, The Miami Herald.
"My six years at The Miami News was my favorite part of my career," he said. "The photographers had three assignments each day, and being an afternoon paper, we had to think of different ways to present stories."
O'Brien soaked in the knowledge from the band of gritty journalists, "mavericks, smart and eccentric," he said. It was while heading to an assignment that he discovered a life-changing subject, a homeless man under a bridge in downtown Miami.
"John Madden was a 57-year-old man down on his luck who I committed to following around for six months, whether he was waiting in a food line, drinking with his friends or being booked into jail," he said.
Madden died of emphysema a few months later, and O'Brien was sent to cover the funeral in Madden's Georgia hometown. There he met the man's four sisters, saw photos of Madden as a promising 11-year-old, as a soldier and as a father to three daughters.
"I realized that I only got to see one period of his life," he said. "We all have dreams; we're all 11 years old at one time. It was only the last part of his life that John Madden got thrown off the road."
During the next 20 years, O'Brien took photographs while living in New York, traveling the globe for magazine work. He and his wife decided in 1993 to move to Austin, a town he grew to love while on assignment for National Geographic.
His project with Madden dovetailed into work for his most recent book. As a charity project in 2006, O'Brien took pictures of homeless people being served by the Mobile Loaves and Fishes charity. He compiled enough photos to put together a book that captures the character and plight of those down on their luck.
In this age of digital megapixels, O'Brien chose an old format for the photos, using a wooden-boxed view camera, in which the photographer drapes a black cloth over his head while the subject remains perfectly still. His work, combined with the words of poet-musician Tom Waits, a longtime friend, captured the "hard ground" upon which these men and women live.
One critic remarked, "While many books show you how to take photographs, this one shows you why you take them."
"It's the same issue I started out with in 1975," he said. "I am showing these people we walk past as real. I just have to try to get them to connect with me and the camera."
O'Brien's first book, "The Face of Texas," was published in 2003 by Bright Sky Press.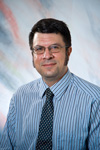 Jeffrey Di Leo
Jeffrey Di Leo, dean of the UHV School of Arts & Sciences and editor and publisher of ABR, had the idea to bring a photographer when he received O'Brien's book as a submission for review.
"I was moved by what I saw and thought he would make a great, visual addition to what we offer during the Reading Series," he said. "O'Brien's photographs and Waits' words will inspire and move readers, and that is what all great art does, no matter the medium."
Other writers speaking in the UHV/ABR Fall Reading Series are:
E. Ethelbert Miller, Nov. 3– Miller, noted poet and literary activist, rescheduled after a family death forced postponement of his planned February visit. The busy activist is board chairman of the Institute for Policy Studies, a board member of The Writer's Center and editor of Poet Lore magazine. Since 1974, he has been director of the African American Resource Center at Howard University in Washington, D.C. His poetry and writings have reflected upon a variety of experiences, from civil rights to baseball.
John Tytell, Dec. 1– A celebrated scholar of the Beat authors of the 1940s through 1960s, Tytell will give expert insight into the most popular names of the genre, including Jack Kerouac, Ezra Pound, Allen Ginsberg, Henry Miller and William S. Burroughs. A Pulitzer Prize nominee, he teamed with his wife, a photographic chronicler of the Beat artists, to produce "Paradise Outlaws: Remembering the Beats." His book, "Naked Angel," is thought by many to be the seminal work on major and minor figures of the Beat Generation.
Authors who are part of the Fall Reading Series attend roundtable discussions with UHV faculty and students, make classroom visits to area schools, give lectures open to the community, and go to receptions hosted by Friends of ABR patrons while they are in Victoria.
ABR is a nonprofit, internationally distributed literary journal that is published six times a year. It began in 1977, moved to UHV in 2007 and has a circulation of about 8,000. The journal specializes in reviews of works published by small presses.
For more information about the UHV/ABR Reading Series, call Uppinder Mehan, interim chair of the UHV School of Arts & Sciences Humanities Division, at 361-570-4178 or go to www.americanbookreview.org.
The University of Houston-Victoria, located in the heart of the Coastal Bend region since 1973 in Victoria, Texas, offers courses leading to more than 80 academic programs in the schools of Arts & Sciences; Business Administration; and Education, Health Professions & Human Development. UHV provides face-to-face classes at its Victoria campus, as well as an instructional site in Katy, Texas, and online classes that students can take from anywhere. UHV supports the American Association of State Colleges and Universities Opportunities for All initiative to increase awareness about state colleges and universities and the important role they have in providing a high-quality and accessible education to an increasingly diverse student population, as well as contributing to regional and state economic development.