Close
Returning UHV student looks forward to open doors after graduation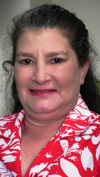 Angela Howard
A college education opens doors in a person's life, regardless of when that person chooses to walk through.
That was in the thoughts of University of Houston-Victoria student Angela Howard when she chose to return to a life of textbooks, assignments and study sessions.
The Alvin native made her way to Victoria about 27 years ago, at first to take courses at Victoria College. Although she completed some credits, life got in the way, and she postponed her classes for awhile.
A renewed drive hit her in 2006, when she began working from home. At that point, it all fell into place.
"My new schedule gave me a way to balance work and school," Howard said. "I'm older than many of the students, but I just knew it was time to go back."
After completing her course work at Victoria College, she is now in the grips of her first semester at UHV. Although she admitted it is a bit of an adjustment, she has enjoyed the experience so far.
"I find myself having to get used to the online courses," she said, explaining she's more accustomed to face-to-face classes. "I feel like the level of education at UHV is great but different."
She hopes to use her communications degree to go into nonprofit grant writing, but also has considered entering the media world, working for either a newspaper or TV station.
"I'm not sure what doors will open with my degree, but I'm excited," Howard said. "This is probably one of the highlights of my life right now. The light at the end of the tunnel is there, and it's very bright."
It isn't all about the study sessions and coursework, however. She still finds time to have fun.
Outside of the classroom, Howard said she enjoys Bible studies, bowling and outdoor sports, with fishing being her favorite. She also serves as treasurer for United Campus Ministries at UHV and Victoria College.
Howard advised others to find hobbies and experience new things whenever possible. While everyone wants students to decide what they want to do with their lives, it isn't possible if those students don't know what's available.
"Get out there and expose yourself to all that you can," Howard said. "It gives you a better view of what you want to do, what you love."
A little elbow grease also can go a long way.
"There's nothing that isn't possible if you put your mind and back into it," Howard said. "Do that, and you can have everything you want."
The UHV Outstanding Student is an online feature highlighting the exceptional students who attend the University of Houston-Victoria. To nominate a student, contact Paula Cobler, UHV interim director of marketing and communications, or call 361-570-4350.
The University of Houston-Victoria, located in the heart of the Coastal Bend region since 1973 in Victoria, Texas, offers courses leading to more than 80 academic programs in the schools of Arts & Sciences; Business Administration; and Education, Health Professions & Human Development. UHV provides face-to-face classes at its Victoria campus, as well as an instructional site in Katy, Texas, and online classes that students can take from anywhere. UHV supports the American Association of State Colleges and Universities Opportunities for All initiative to increase awareness about state colleges and universities and the important role they have in providing a high-quality and accessible education to an increasingly diverse student population, as well as contributing to regional and state economic development.