Close
UHV junior, new blog author wired for communication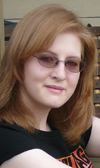 Victoria Brieske
While it's true that everybody has a story to tell, not every person takes the time to do it.
University of Houston-Victoria junior Victoria Brieske has been telling hers since childhood, through artwork, stories and more.
Brieske always has had a flair for the artistic. As a child, she wanted to become an illustrator and later expressed herself through acting.
The writing bug didn't bite until about age 12, when the young artist came across a story that just didn't translate from brain to drawing paper.
"I went to my mom in a huff because I couldn't do it," she said with a laugh. "She told me, 'Why not write it?' And that was it. I've been writing ever since."
Now, through a new student blog, she hopes to transform that love of the written word into a helpful outlet for students.
Brieske is working to develop Jag Wire, a blog at yourjagwire.blogspot.com geared at building a stronger connection between students and the university.
Inspiration came through her job with the UHV Office of Institutional Effectiveness. There, focus groups showed that students wanted access to campus organizations, amenities and the like.
The twist was that although those things already were available, students just weren't aware they existed.

"Maybe having this blog available will help them realize there's more here than they think," she said, explaining she is encouraging others to join the group and contribute to the blog. "People, especially students, seem to take things more seriously if it comes from peers than an authority figure."
Brieske said she plans to keep Jag Wire an online-only publication, not only to coincide with UHV's work to remain environmentally friendly, but also because students naturally gravitate toward technology.
"It's just the way things are going," she said. "It's easier for a lot of people."
Brieske, 21, graduated from Valley View High School in Jonesboro, Ark., in 2008 and began her higher education career at a community college. She later enrolled at UHV, where she majors in humanities with a concentration in English.
Class and work on her up-and-coming blog might take up much of her day, but she still finds time for a hobby or two.
Brieske enjoys reading and writing, and also maintains an eclectic taste in music, listening to everything from the Rat Pack to Yumi Yamazaki.
She also enjoys researching anything that interests her.
"My dad always said you should always question things," she said, explaining it's a guideline she lives by. "Dig deeper. Second guess. Don't stop until you find the truth."
For more information about the Jag Wire or to contribute to the blog, contact Brieske at brieskev@uhv.edu.
The UHV Outstanding Student is an online feature highlighting the exceptional students who attend the University of Houston-Victoria. To nominate a student, contact Paula Cobler, UHV interim director of marketing and communications, or call 361-570-4350.
The University of Houston-Victoria, located in the heart of the Coastal Bend region since 1973 in Victoria, Texas, offers courses leading to more than 80 academic programs in the schools of Arts & Sciences; Business Administration; and Education, Health Professions & Human Development. UHV provides face-to-face classes at its Victoria campus, as well as an instructional site in Katy, Texas, and online classes that students can take from anywhere. UHV supports the American Association of State Colleges and Universities Opportunities for All initiative to increase awareness about state colleges and universities and the important role they have in providing a high-quality and accessible education to an increasingly diverse student population, as well as contributing to regional and state economic development.