Close
Freshman kick-starts first UHV jazz dance group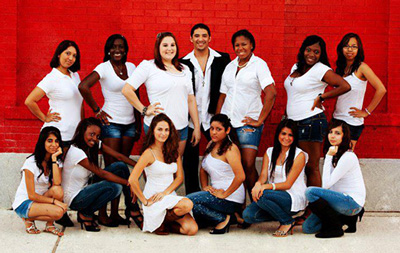 Captured by Jason Photography
Members of the newly formed UHV Jazz Dance Team are top row from left, Ami Soliz, Taylor Henderson, Stephanie Ledwig, Charlie Torres (choreographer), Chastity Grimes, Irieal Morgan and Lilly Duong; and bottom row from left, Jasleen Talwar, Tracsion Stokes, Sarah Barker, Viviana Fernandez, Vanessa George, Stephanie Velez (manager). Not pictured are Maira Nino and Antonia Adebo.
"Five, six, seven, eight!"
From chasses to pique turns, the University of Houston-Victoria's first jazz dance team is coming together.
With a 56 percent increase in UHV student enrollment since fall of 2007, the demand this fall for student organizations at the university is stronger than ever. But not many students know where to begin to start a student organization, and they sometimes become discouraged. Freshman Stephanie Ledwig has remained determined and passionate.
Ledwig, a 19-year-old Victoria native, is an experienced dancer of 17 years. She is an eclectic performer with capabilities in ballet, tap, jazz, contemporary and drill team. Coming to UHV, Ledwig was shocked by the absence of a dance program. She decided to major in communications, but her inner coryphée poked and prodded her to take action. The establishment of a team became her mission.
Although she had the full support of her family and the university administration, Ledwig still feared a stoical response from her peers. Such insecurity, however, was overturned.
"I was very impressed with the turnout," Ledwig said. "I was nervous I would only have a few girls, but I was shocked by having a total of 15. After the email went out about the organization being started, I had tons of responses from students who were interested. I felt like I had begun something that others wanted to be a part of."
For freshman Stephanie Velez, a first-generation college student from El Paso, that is exactly what Ledwig has done. Having little to no experience in the art, Velez admits to being divided between her desire to learn and a novice's intimidation. She credits her friends Tracsion Stokes and Jasleen Talwar for giving her the push she needed to go out for the team.
After a weekend of training and bonding over pizza, Velez and her classmates grew close and the intimidation factor decreased. Ledwig and her committee of sideline spectators –her mother and sister, Megan – realized that they had assembled not only a potential team, but a family.
By the end of the weekend, Ledwig had her team of 15. Each dancer is unique in style, talent and background, but all share a kindred connection – the desire to dance.
"We were a bunch of amateurs who are making jazz look awesome," said 18-year-old Jasleen Talwar, a biology major and childhood immigrant from India. "What else can we ask for?"
Her classmate and teammate Velez concurred.
"The dance team is an amazing group of young ladies that have a drive to start new things and will accomplish a great deal," she said.
While the UHV Jazz Dance Team will not have another performance until December, it will be taking an active role in the local fundraising campaign for National Epilepsy Awareness Month in November. In the meantime, the young women will continue to train hard and work together, making progress one step at a time.
"I am proud to be a part of the first Jaguar Jazz Team," said Chastity Grimes, a business major and native Texan. "I hope we will inspire many other people to come out and start doing what they love."
For more information about the UHV Jazz Dance Team or other UHV student organizations, go to www.uhv.edu/student_org.
The University of Houston-Victoria, located in the heart of the Coastal Bend region since 1973 in Victoria, Texas, offers courses leading to more than 80 academic programs in the schools of Arts & Sciences; Business Administration; and Education, Health Professions & Human Development. UHV provides face-to-face classes at its Victoria campus, as well as an instructional site in Katy, Texas, and online classes that students can take from anywhere. UHV supports the American Association of State Colleges and Universities Opportunities for All initiative to increase awareness about state colleges and universities and the important role they have in providing a high-quality and accessible education to an increasingly diverse student population, as well as contributing to regional and state economic development.