Close
UHV education professor, museum pair for 'Look, Think, Do' books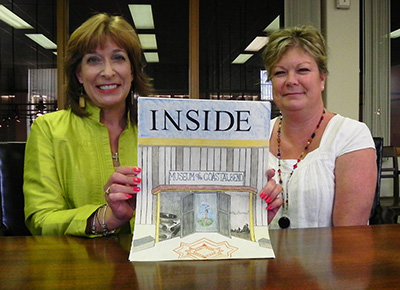 Jill Fox, left, a University of Houston-Victoria education professor, shows one of the "Look, Think, Do" activity books for fourth-graders that she produced with Lisa Brimberry, education coordinator at the Museum of the Coastal Bend.
By fourth grade, many children view simple coloring books as "not cool."
But a partnership between a University of Houston-Victoria education professor and the Museum of the Coastal Bend at Victoria College combines art, science, math and more to spur an interest in the area's colorful history.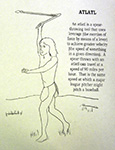 An illustration of an American Indian boy helps students think about math, history and art.
"Look, Think, Do" books are being created by Jill Fox, a UHV School of Education & Human Development professor, and Lisa Brimberry, the Museum of the Coastal Bend's education coordinator.
"I'm having such a good time with this," said Fox, who specializes in early childhood education. "Being new to the Coastal Bend area, I've learned so much. I've seen what a resource the Museum of the Coastal Bend is to the community."
The idea for the books came after a visit by Brimberry to an area city's museum in which coloring books were the only thing offered for fourth-grade students. Brimberry and Fox decided to team up to offer something more demanding.
"One big challenge at any museum, and one of our goals, has been to develop activities that are cross-curricular," Brimberry said. "Teachers who bring their students here on field trips want activities like that, and we are doing our best to work with them."
One of the lessons from the first book, "Early People of the Coastal Bend," shows an American Indian child using an atlatl to help throw a hunting dart. Children use math skills to gauge how much the atlatl can improve the velocity and distance of the dart.
"We targeted fourth-grade students with exercises that began with history but quickly became interdisciplinary, adding math, language arts and science," said Fox, who also serves as director of assessment in UHV's newly created Office of Institutional Effectiveness, which oversees accreditation efforts.
Museum Director Sue Prudhomme said more than 2,500 fourth-graders visit the museum each year. To offset some of the printing costs, the partnership has applied for a grant to pay for printing of the books. For now, the "Look, Think, Do" books are self-published, but Prudhomme hopes to find an education publisher in the future.
"If the grant comes through, we would like to give them to every fourth-grader who visits the museum, as well as make them available for purchase in our museum store," she said. "We view them as a true educational resource for classrooms and parents."
The books focus on the museum's permanent exhibits. The first book is followed by one about explorer Robert Cavelier de la Salle and Fort St. Louis, the first French settlement on Texas soil. A third book will be about the South Texas cattle boom, a museum exhibit that will be on display through December 2012.
Two local authorities also pitched in with advice. Bill Birmingham, a steward for local archaeology efforts, and Dennis Riedesel, a UHV associate professor of education who specializes in increasing student achievement, offered advice on text and format.
Each book begins with an introduction for both children and adults, followed by sketch pages with information and blank pages for taking notes or doing activities.
Fox's drawings are used throughout the book, another skill she picked up recently and has enjoyed using. She began drawing only five years ago as a hobby when she took a drawing class.
Brimberry said children are used as subjects in illustrations, where possible, to help young learners relate to what they are studying.
"There were children at Fort St. Louis," Brimberry said. "When those at the fort were massacred by the Karankawa, some of the children were adopted by the Indians. When the Spanish came over about a year later, they searched for the children, but some of them had lived with the Indians so long they had forgotten how to speak French."
Fox, who came to UHV in fall 2010, also has learned much about the area's history in researching the books.
"The project is a wonderful example of collaboration between the entities and its people," Prudomme said. "We have great minds and enthusiastic spirits working together."
The University of Houston-Victoria, located in the heart of the Coastal Bend region since 1973 in Victoria, Texas, offers courses leading to more than 80 academic programs in the schools of Arts & Sciences; Business Administration; and Education, Health Professions & Human Development. UHV provides face-to-face classes at its Victoria campus, as well as an instructional site in Katy, Texas, and online classes that students can take from anywhere. UHV supports the American Association of State Colleges and Universities Opportunities for All initiative to increase awareness about state colleges and universities and the important role they have in providing a high-quality and accessible education to an increasingly diverse student population, as well as contributing to regional and state economic development.