Close
UHV student, wanderer enjoys slow pace of farm life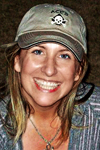 Roni Hovey
Between frequent moves from one city to the next and an affinity for adventure, it's been years since University of Houston-Victoria student Roni Hovey found herself in any one place long enough to set down roots.
In its own roundabout way, however, her latest undertaking has her doing just that.
The Minnesota native and her husband made their way to Goliad about a year ago, deciding it might be nice to forego the hustle and bustle of the city. Instead they purchased a trailer, then some rabbits and chickens, and began a new life on a farm.
"We wanted to have a simpler life," she said, explaining she did extensive online research when the plan first got under way. "I'd never done anything like this before. I'd never lived on a farm."
Rural life took some adjustment, the UHV communications major admitted.
She found setting down roots, vegetable garden-style, to be more difficult than it appeared and had to get used to the fact that going into town was a larger undertaking than in the past. Another more difficult lesson came when she lost chickens to raccoon and owl attacks.
"You find yourself getting attached to them, even though you wouldn't think so," she said of the fowl. "They each have their own personalities. They're like their own little community."
Hurdles or not, Hovey has found positives to her new lifestyle.
Her property allows glimpses of the most beautiful sunsets she's ever seen, and the couple has become more self-reliant. They even lowered their electricity bill by about $100 per month simply by drying her clothes on the line and foregoing cable TV and a dishwasher.
The country life also has allowed Hovey a chance to indulge in her creative side. She enjoys photography and has time to get those life experiences she's collected over time down on paper.
"I always say I spent the first 40 years of my life taking in these experiences," she said. "I can spend the next 40 writing about them."
All in all Hovey, 42, is happy in Goliad. But that doesn't mean she expects to call the city home forever. She's a wanderer and will likely continue forward to a new adventure a few years down the road.
"I love the experiences that come with moving somewhere new," she said, explaining she's lived everywhere from California, to Alabama, to Houston and more. "You're constantly learning. And I find the more I learn, the more I realize I don't know."
The UHV Outstanding Student is an online feature highlighting the exceptional students who attend the University of Houston-Victoria. To nominate a student, contact Paula Cobler, UHV interim director of marketing and communications, or call 361-570-4350.
The University of Houston-Victoria, located in the heart of the Coastal Bend region since 1973 in Victoria, Texas, offers courses leading to more than 80 academic programs in the schools of Arts & Sciences; Business Administration; and Education, Health Professions & Human Development. UHV provides face-to-face classes at its Victoria campus, as well as an instructional site in Katy, Texas, and online classes that students can take from anywhere. UHV supports the American Association of State Colleges and Universities Opportunities for All initiative to increase awareness about state colleges and universities and the important role they have in providing a high-quality and accessible education to an increasingly diverse student population, as well as contributing to regional and state economic development.