Close
Biology major with global background settles into UHV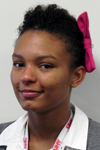 Maria Alba Sanchez
University of Houston-Victoria freshman Maria Alba Sanchez has seen her share of the world. In fact, she's probably seen many people's share of the world.
Born in Equatorial Guinea, Sanchez's father held a position with the World Health Organization that relocated the family from time to time. She spent years living in Angola, Belgium, Spain, the Domican Republic, Paraguay, and Chile.
Each move took a bit of adjustment but taught her a lot.
"Living in new places, you get to know different cultures and different people," she said. "The culture in South America is just so different from America. And America is so different from European countries."
Sanchez thinks all people should travel if given the chance, even if it's simply getting a closer look at their own country.
"I think a lot of people in the U.S. seem confined to the country," she said. "They aren't interested in what other people are doing outside. But there's so much to learn. It's good to get out and explore."
Travel isn't the only thing that fills Sanchez's time.
Although she has only called Victoria home for a few months, she already has become involved in numerous student organizations, including the Rosebud Film Society, a student news blog called Jag Wire, an art club and the Jaguar Hall Community Council.
When not in class or attending a group meeting, she also finds time to tutor other students.
"I just don't like being bored," she said with a laugh. "I want to be doing something."
Sanchez selected UHV after receiving a scholarship to the university, explaining her parents urged her to attend college in the U.S. because it was more affordable. Although she hasn't been at UHV long, she thinks the school is a good fit.
"People here are so nice," she said. "They're helpful. I still feel homesick once in a while, but it isn't very often. I like where I am."
Looking ahead, it appears the biology major may follow in her father's footsteps, entering a health-related field. Her current plans have her leaning toward pharmaceuticals or genetics research, but she still has time to figure it all out.
In the meantime, there are still new places to explore.
"I plan to continue traveling," she said. "It's amazing what's out there."
The UHV Outstanding Student is an online feature highlighting the exceptional students who attend the University of Houston-Victoria. To nominate a student, contact Paula Cobler, UHV interim director of marketing and communications, or call 361-570-4350.
The University of Houston-Victoria, located in the heart of the Coastal Bend region since 1973 in Victoria, Texas, offers courses leading to more than 80 academic programs in the schools of Arts & Sciences; Business Administration; and Education, Health Professions & Human Development. UHV provides face-to-face classes at its Victoria campus, as well as an instructional site in Katy, Texas, and online classes that students can take from anywhere. UHV supports the American Association of State Colleges and Universities Opportunities for All initiative to increase awareness about state colleges and universities and the important role they have in providing a high-quality and accessible education to an increasingly diverse student population, as well as contributing to regional and state economic development.