Close
UHV writer-in-residence draws national praise for latest book
A University of Houston-Victoria professor is using his latest book to promote his initiatives for getting Mexican-American literature out of the "exotic" category and into mainstream American literature.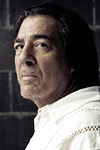 Dagoberto Gilb
Dagoberto Gilb, UHV writer-in-residence, is in the midst of a busy publicity tour following the release of his latest book, "Before the End, After the Beginning," published this month by Grove Press.
The collection of 10 stories highlights Gilb's personal trial in the wake of a 2009 stroke and his struggle to recover. Gilb, recognized for his blue-collar characters, tackles identity and mortality in his unique way.
"I think that because I went through a personal trauma, my work is being looked at differently, and critics are more appreciative of what I do," he said. "A lot of reviewers had seen me as some sort of exotic foreigner on the edges of American culture, even though I'm from Los Angeles and have lived in the Southwest my entire life."
One of the stories, "Cheap," was published in the November issue of Texas Monthly. Its narrator is a successful Chicano classical musician who is not completely comfortable among either wealthy white arts patrons or the Mexican workers who are brought in to paint his home.
In the book's opening story, "please, thank you," the main character struggles with the helplessness of a major medical trial after having lived as a strong man in good health. Gilb admits the character's thoughts mirrored his own.
"My recovery has been difficult, and there has been damage, but there are many people who are far worse," he said. "My life has been graced with good health and strength, so it's more difficult now, but I'm still working, and I'm gratified by the positive response to the book so far."
The author will be recognized on Nov. 18 for excellence in literary achievement by the Austin Public Library Friends Foundation. He is a past winner of the PEN/Hemingway Award and recipient of a Guggenheim Fellowship.
Gilb also is using his new book to draw attention to CentroVictoria, housed at UHV, where he serves as executive director. The center for Mexican-American literature and culture seeks to expose more people to writing from the fast-growing demographic
"What we're trying to put Mexican-American literature and culture into the American mainstream," he said, "We're from all over, and we're a part of what most people think of as America. We're a huge, regional presence, and we're proud of that culture in our region."
CentroVictoria has developed lesson plans to show teachers from school districts around the state how to augment regular classroom studies. The plans are aligned with standardized tests, and it is receiving positive response, especially from districts with large Mexican-American student populations.
Lesson plans are taken from stories in an anthology of Texas Mexican literature Gilb edited in 2008 called "Hecho en Tejas."
Jeffrey Di Leo, dean of the UHV School of Arts & Sciences, said Gilb's presence helps bring national recognition to the university as it builds an expanding publishing center that also houses the American Book Review, University Press of Victoria and a growing Master of Science in publishing program.
"Professor Gilb's talent and vision are great assets to the university," Di Leo said. "UHV is welcoming a lot of working-class, first-generation students to its campus, many of whom are Mexican-American, and he imparts a lot of knowledge and also serves as an inspirational role model."
Reviews and interviews surrounding the release of "Before the End, After the Beginning" can be found in the Los Angeles Times, the New York Journal of Books, the San Antonio Express-News, the El Paso Times, Publishers Weekly, the Texas Observer and Ahora Si´, a Spanish-language newspaper.
The University of Houston-Victoria, located in the heart of the Coastal Bend region since 1973 in Victoria, Texas, offers courses leading to more than 80 academic programs in the schools of Arts & Sciences; Business Administration; and Education, Health Professions & Human Development. UHV provides face-to-face classes at its Victoria campus, as well as an instructional site in Katy, Texas, and online classes that students can take from anywhere. UHV supports the American Association of State Colleges and Universities Opportunities for All initiative to increase awareness about state colleges and universities and the important role they have in providing a high-quality and accessible education to an increasingly diverse student population, as well as contributing to regional and state economic development.