Close
Grant to provide police officer, additional counseling services at UHV
The University of Houston-Victoria recently received a nearly $300,000 grant from the U.S. Department of Justice that will result in the university's first-ever sworn peace officer as well as expanded services from its counseling center.
The $299,752 grant, which will be distributed over three years, will allow UHV to hire its first police officer and its first victim advocate. It also will increase the availability of counselors and psychologists in the UHV Counseling Center.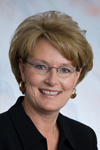 Chari Norgard
The officer will address campus security issues perform safety checks, and address campus investigations and victim-advocacy issues. Both the police officer and new victim-advocate position will be part time.
"As UHV grows, we want to offer educational programs for students so that we can be proactive and reduce the potential for incidents like dating violence to occur," said Chari Norgard, UHV's associate vice president for student affairs, who will direct implementation of the new programs. "This grant gives us the financial help to put this education program into place."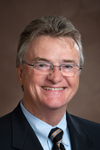 Phillip Castille
UHV President Phil Castille said the grant is a great help in these times of lean university budgets.
"We are so pleased to receive these funds for this important safety and counseling effort. This grant helps us meet one of our main goals of providing a safe student environment for our residential campus," Castille said. "We are grateful for this grant and thankful to those who put in the work to get it."
The university has begun the process of hiring a peace officer, a victim advocate and a counselor-psychologist. UHV currently uses part-time security officers to patrol the campus, while the counseling center director serves as an informal victim advocate. Administrators estimate the new positions and programs may be in place by mid-January.
The grant also will allow the university to train online and face-to-face students to increase their awareness regarding student safety. It will allow the hiring of speakers to address student safety issues such as sexual assault, stalking, dating violence and domestic violence. UHV's online students will have access to these sessions through Interactive Television.
The goals of programs funded by the grant are to improve student awareness and safety, enhance campus compliance with more training on reporting campus crimes, increase detection and investigation of those crimes, and increase the overall campus climate and safety for students.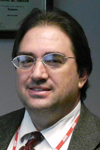 Jesus Aros
"Sometimes students must accept new rules and boundaries when they are learning about dating and socialization as adults at a university," said Jesus Aros, UHV director of counseling and lead psychologist. "The services and information they receive through the grant should help them make good choices within a campus setting."
Aros said the grant process involved many from the community, including Molly Villafranca of Mid-Coast Family Services; Julie Flessner, executive director for Hope of South Texas; and Jefferson Hobbs, detective for the Victoria Police Department family violence division. The grant opportunity was first explored in 2009.
A joint task force and crisis response team between the community and UHV soon will form to plan for prevention and support needs. In addition to the UHV Counseling Center, other university agencies involved include Student Affairs, business services and athletics.
Other staff members who will work on the project include Lindsey Koch, director of Student Life and Services; Genaro Cortez, safety and risk manager; Denee Thomas, senior director of enrollment management; and Alexandra Baker, general manager for American Campus Communities, which is the management company for the Jaguar Hall dorm.
The University of Houston-Victoria, located in the heart of the Coastal Bend region since 1973 in Victoria, Texas, offers courses leading to more than 80 academic programs in the schools of Arts & Sciences; Business Administration; and Education, Health Professions & Human Development. UHV provides face-to-face classes at its Victoria campus, as well as an instructional site in Katy, Texas, and online classes that students can take from anywhere. UHV supports the American Association of State Colleges and Universities Opportunities for All initiative to increase awareness about state colleges and universities and the important role they have in providing a high-quality and accessible education to an increasingly diverse student population, as well as contributing to regional and state economic development.